---
Chaos Erupts In Energy Markets As European Gas Jumps 60%
The invasion of Ukraine has transformed Russia into a commercial outcast as refiners balk at purchasing Russian energy products, and banks are refusing to finance shipments. The result is a physical market in disarray as geopolitical turmoil upends supply chains and keeps markets volatile. 
Commodity markets have been in turmoil since the Feb. 24 invasion. European natural gas jumped as much as 60% on Wednesday -- as buyers, traders and shippers avoid Russian gas. 
Three sources told Bloomberg that gas and power traders are avoiding new deals with Russia's Gazprom PJSC. They said European companies are expected to unwind contracts, or clearinghouses will halt trading with Russia's state-owned energy company and liquidate their positions. 
But for now, Gazprom's gas supplies are flowing into Europe and increasing. Shipments at top entry points, such as Velke Kapusany in Slovakia and Yamal-Europe pipeline overnight in Germany, have recorded gas levels rebounded, with more capacity booked. 
The invasion has turned Russian into a commercial outcast and is causing changes in market structures, price dislocations, and violent swings across commodities and many asset classes. 
The European benchmark, Dutch gas, jumped to nearly 195 euros a megawatt-hour, a record high, and were 38% higher at 167 euros at 0728 ET. 

The invasion has sent crude soaring -- with Brent crude topping $113 a barrel around 0300 ET -- as buyers bulk at Russian energy products.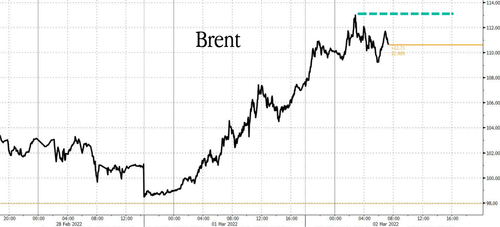 "Geopolitics are throttling supply chains and keeping markets on edge," said John Driscoll, a Singapore-based chief strategist at JTD Energy Services Pte. The wild swings in intraday trading ranges, volatility and backwardation are "scary," he said.
Russia, which supplies one-third of Europe's gas needs, has said delivery of gas through vast pipeline networks will continue. Gazprom warned Tuesday of "serious challenges" in replenishing European gas storage facilities for next winter, considering "such significant gas volumes" are needed. This has never happened ahead of the summer months.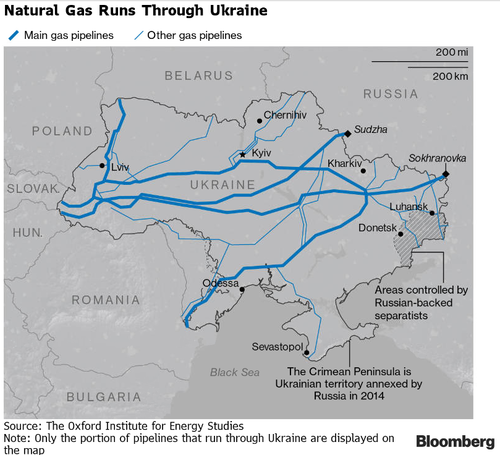 Europe is already smack dab in an energy crisis that appears to be worsening by the day as gas prices soar to record highs. Demand destruction will be brought forward at this rate and could push the continent's economy into stagflation. 
On Tuesday, European Central Bank Governing Council member Olli Rehn was quoted by Bloomberg as saying Russia's invasion will lead to stagflation. He said the ECB is not in a position to tighten fiscal policy. 
World Bank President David Malpass told CBS on Sunday that it could take upwards of five years to find alternatives to Russian gas.