---
Traders Book Huge Profits By Mixing, Reselling Cheap Russian Oil
A ban on Russian crude oil by the European Union and the US went into effect late last year, forcing Russia to find more buyers in the eastern part of the world. Besides China's and India's surging appetite for Russian crude imports, a flood of cheap oil is pouring into Singapore. It's being blended and then re-exported globally as traders reap huge profits. Recall that Russian energy products were sold to China and repackaged for European markets last summer. 
Before Russia invaded Ukraine, Europe was Moscow's largest crude and refined petroleum products customer. But those days are over as Western sanctions forced Russia to rejigger its energy supply chains towards the East. 
Moscow realized besides expanding pipelines to Asia and elsewhere, which could take years to develop infrastructure to increase flows, a fleet of shadow tankers would be its best bet to transport the oil. 
Now demand is soaring in Singapore for storage tanks as inexpensive Russian crude finds a home, according to Bloomberg. 
Tank space in the city-state is being snapped up due to a rise in interest and profits from mixing cheap fuel supplies from Russia with shipments from other sources, according to an executive from a tank operator and a consultant who advises traders on the matter. This process can help to obscure the cargoes' origins, they said.
Unlike many Western countries, Singapore has yet to ban Russian oil or petroleum products, although banks based in the country are prohibited from financing or dealing directly with Russian countries. 
In the coming weeks, Europe prepares to enforce new sanctions on Russian petroleum products, which will only increase Russia-to-Asia flows that will be pushed to hubs like ones in Singapore, mixing cheap Russian fuels with other sources for re-distribution globally. 
"We have observed an increase in the number of inquiries of short/spot-term storage in the period leading up to December," a spokesman for oil storage company Advario Asia Pacific said via e-mail.
Six-month leases for Singapore fuel oil or crude oil storage jumped by as much as 20% last year, according to local tank operator firms, including Advario, Jurong Port, Horizon, and Royal Vopak.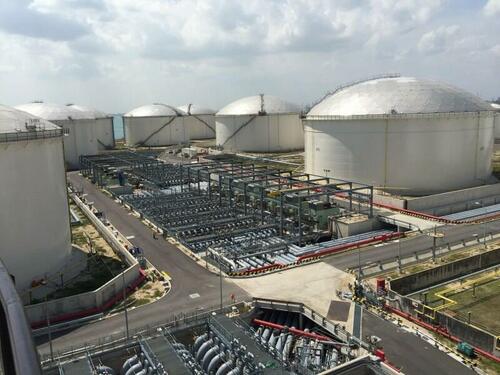 Ship tracking data by Vortexa Ltd. showed oil-receiving terminals more than doubled volumes of Russian naphtha and fuel oil in December versus a year ago. Terminals received 2.6 million barrels of naphtha, nearly 40 times higher than the volume one year ago.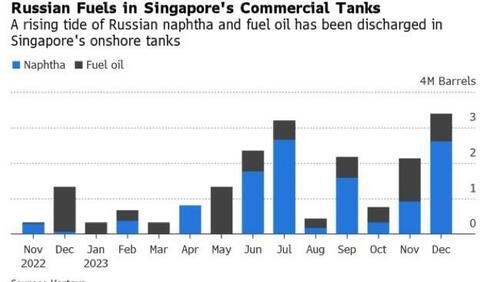 Russian naphtha sitting in Singapore tank farms is being quickly re-exported to other Asia markets, according to Armaan Ashraf, global head of natural gas liquids at industry consultant FGE. 
William Tan, senior vice president of fuel consultancy Miyabi Industries, said Singapore tank farm storage is becoming very popular with traders taking in cheap Russian crude, blending it, and exporting it elsewhere for "very good" profit margins. He said traders are reaping 20% profit margins. 
Russia will need to expand its shadow fleet tankers as energy supply chains are rejiggered because of Western sanctions. Traders are capitalizing on these new trade flows. Still, the West has yet to cripple Russia but only bring forward a world where energy is traded in anything but dollars.  
Loading...