---
China Creates Countrywide 'No-Pig Zones' To Limit African Swine Fever 
The African Swine Fever (ASF) decimated China's hog population in 2018 and has since been brought under control as the country rebuilds its hog herd. China released a novel plan to reshape the entire hog industry to mitigate future spreading, according to Bloomberg. 
The Chinese agriculture ministry recently announced that the country would split into five regions from May. Pigs in each region will not be transported into other areas to mitigate the potential threat of ASF spreading.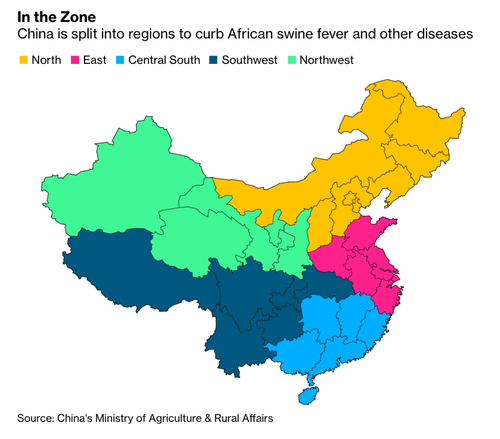 Senior analyst Lin Guofa at consultancy Bric Agriculture Group said approximately 20% of the country's pigs, or about 140 million live animals, are transported across the country each year and increase the chances of spreading diseases. The main transportation route for farmers is from the northeast to the south to meet the large demand for fresh meat in metropolises. 
With new guidelines expected to be in place in a matter of days, areas known for little or no pig farming will have to increase capacity. 
"Some areas that used to call themselves no-pig counties or no-pig cities will have to build pig farms," Guofa said. 
Under the guidelines, the only way for pork to be transported across regions will have to be in frozen meat form, leading to an expansion of the cold-chain industry, added Guofa. 
Pigs are a significant source of protein in China. According to data from the Dalian Commodity Exchange, the country is the world's top consumer of pork, with annual sales of around $308 billion per year.
Chinese consumers have caught a period of relief after nearly two years of elevated pork prices due to the culling of millions of pigs countrywide during the ASF outbreak. Wholesale pork prices are down 30% year-to-date.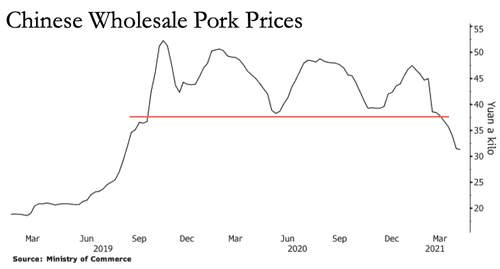 "The controls will depress prices in the north in the short term and push them up in the south," according to Wang Zhong, chief consultant at Systematic, Strategic & Soft Consulting Co. "That may eventually prompt big pork producers -- including Muyuan Foodstuff Co., New Hope Liuhe Co. and Wens Foodstuff Group Co. -- to build more hog farms in the south and more slaughtering facilities in the northeast and northwest," Bloomberg said.
The new guidelines are similar to ones in Brazil and Spain that limit farmers from transporting live animals around the country. Such a measure has been successful in eradicating ASF from both countries.