---
China Quietly Buying Russian Oil As Kazakhstan Says CPC Terminal Halt To Last; Nigeria Reveals 95% Of Oil In Key Pipeline Drained By Thieves
Days after we reported that India stubbornly refused to yield to western pressure and continued to buy cheap Russian crude oil at a discount of around $30 to dated brent...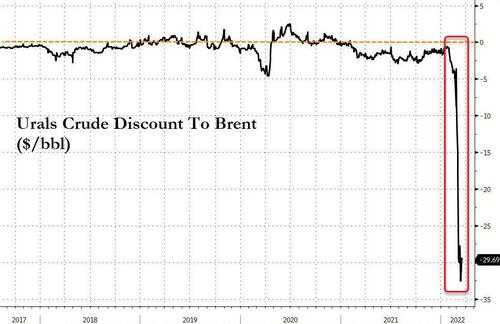 ... today Bloomberg reports what we have known all along, namely that China's oil refiners are "discreetly" purchasing cheap Russian crude as the nation's supply continues to seep into the market.
However, unlike India's state-run oil refiners, which have issued a number of tenders seeking to buy Russia's flagship Urals crude among other grades, traders say China's state processors are negotiating privately under the radar with sellers so as not to make their support for the Putin regime too glaring in light of Western opposition.
At the same time, China's worst virus outbreak since the start of the pandemic has led to some oil refiners cutting back operations and is forcing analysts to rethink their demand estimates.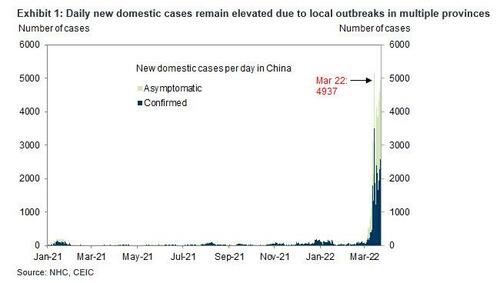 So on one hand, the Covid-19 resurgence is posing a threat to global oil consumption and may accelerate demand destruction, helping to rein in bloated prices that soared on Russia's war in Ukraine, but on the other it seems the world is about to be hit with another lengthy disruption.
As we first reported yesterday, Kazakhstan today said that it expects the halt of the CPC export terminal on Russia's Black Sea coast to last about 1 1/2 months, Energy Minister Bolat Akchulakov said on local business TV channel Atameken after it emerged Tuesday that oil shipments to the facility will be significantly disrupted.
In response to Russian depity prime minister Novak who said that repairs could take as long as two month, Akchulakov said the halt will be only "three weeks, a month, maybe a bit more" (read: it will be a "bit more"), with the Kazakh minister saying he expects CPC has the spare parts needed for repairs.
Yesterday, we noted that Russian and Kazakhstan oil exports via the Caspian Pipeline Consortium (CPC) from the Black Sea may (read: will, now that all commodities are weaponized) fall by up to 1 million barrels per day (bpd), or 1% of global oil production, due to storm-damaged berths, a Russian official said on Tuesday.
And in another potential supply-chain snag, on Thursday a Nigerian labor union said that Nigeria is losing nearly all of its oil output pumped through a major pipeline, in what Bloomberg calls the latest example of an increase in theft that's accompanied a surge in crude prices, according to a labor union.
Producers received as little as 5% of crude volumes pumped through the Trans Niger Pipeline between October 2021 and February 2022, with the fuel being illegally tapped in about 150 places, according to the Petroleum and Natural Gas Senior Staff Association of Nigeria. Vandalism was also a major contributor to the losses, the union said.
The losses are having an adverse impact on government revenue and foreign-exchange reserves, Central Bank Governor Godwin Emefiele said in a briefing on March 21. Africa's largest crude producer has struggled to meet its OPEC+ quota despite rising oil prices following Russia's invasion of Ukraine.  
"How can we be losing over 95% of oil production to thieves?" Tony Elumelu, a Nigerian billionaire who owns investment firm Heirs Holdings, said on Twitter last week. "It is clear that the reason Nigeria is unable to meet its OPEC production quota is not because of low investment but because of theft, pure and simple!"
@HETimipreSylva disclosed this today during an on-the-spot assessment of some pipelines negatively impacted by the unwholesome activities of the criminals in Ibaa Community of Emeoha Local Government of Rives State. pic.twitter.com/YobZECWrfj

— NNPCLimited (@NNPCgroup) March 23, 2022
The government is intent on tackling oil-related crime, Timipre Sylva, Nigeria's minister of state for petroleum resources, said on Wednesday while visiting sites where the stolen crude is processed.
"We are determined to stop it, because we know that we can ill-afford the continuation of this insecurity in the oil industry," Sylva said, according to the remarks posted on Twitter by the state-owned Nigerian National Petroleum Company Ltd.
VIDEO:

Chief of Defence Staff, Gen. Lucky Irabor says in carrying out Mr. President's directives to contain losses from pipeline vandalism and crude oil theft, the Military will deploy "a different, new strategy and drive against the criminals and their sponsors." pic.twitter.com/lBx3ImLPO8

— NNPCLimited (@NNPCgroup) March 23, 2022
With all this taking place, oil was trading around $114, roughly unchanged from the highest levels hit on Wednesday.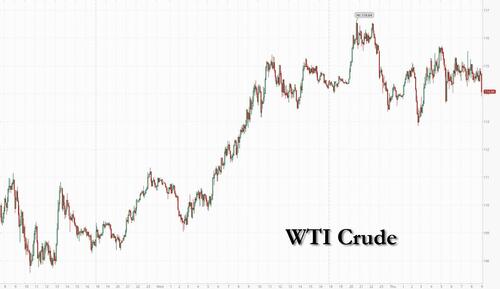 Loading...