---
Chipotle On Brink Of Guacamole Shortage After US Bans Mexican Avocados
Four days have passed since the United States suspended all imports of Mexican avocados following a federal inspector threatened at an avocado farm in the state of Michoacan, Mexico (the central hub of Mexican avocado production). Now one of the largest US Mexican fast-food chains could be on the brink of a guacamole shortage. 
NYPost reports Chipotle Mexican Grill sounded the alarm on possible future supply disruptions of avocados in the coming weeks.
"Our sourcing partners currently have several weeks of inventory available, so we'll continue to closely monitor the situation and adjust our plans accordingly," Chipotle's CFO Jack Hartung said in a statement. He said the company is "working closely with our suppliers to navigate through this challenge." 
Hartung didn't explain what supply distributions of avocados would mean for the company with nearly 3,000 US locations. The fast-food retailer was already dealing with some of the highest avocados prices, up 31% this year alone. 
The price for a 20-pound box of avocados from the state of Michoacan was around $27.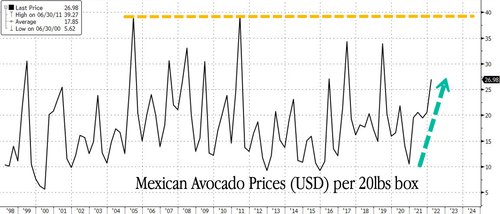 Two decades of avocado prices show current prices are some of the highest ever for this time of year. And could be set to move higher, between the $30-$35 range if the import ban isn't immediately lifted.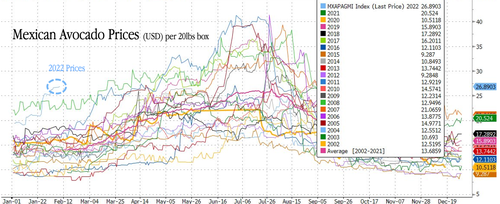 Chipotle has already raised prices to combat soaring food inflation. However, if the import ban remains in place, a shortage of guacamole could be seen as early March. There was no word if other fast food Mexican retailers such as Taco Bell, Qdoba Mexican Eats, Moe's Southwest Grill, and Baja Fresh would experience similar issues.