---
Cocoa Futures Hit One Year Low As Pandemic Wrecks Global Consumption  
ICE Europe cocoa futures plunged to one year low on Monday following demand concerns and oversupplied conditions amid mounting global economic headwinds that suggest no V-shaped recovery in the back half of 2020.
September London cocoa futures ended the session down 6 pounds to 1,682 pounds per tonne, now in bear market territory, plunging -20% since mid-February. In 15 quarters, from 3Q16, cocoa futures have tumbled 34%.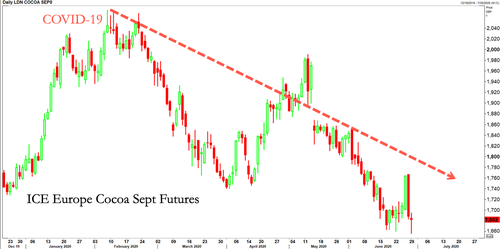 Reuters explains the bearish fundamental backdrop for the cocoa market will likely pressure prices ahead: 
"Above-average rains last week in most of top producer Ivory Coast's cocoa regions bode well for the start of the next main crop in October but could hurt the current mid-crop, as indicated by falling port arrivals.

"An expected rise in production in the upcoming 2020/21 season combined with increased signs demand is flailing amid the economic downturn is weighing on cocoa." - Reuters 
Cocoa futures are a proxy of economic activity among consumers. Chocolate companies suffered steep declines in sales as lockdowns closed restaurants, resorts, movie theaters, concerts, and other forms of entertainment. Consumers across the world have been crushed by lockdowns, unlikely to spend money at 2019 levels. 
Days ago, we outlined similar bearish fundamentals playing out in coffee markets, sending spot prices to 15-year lows.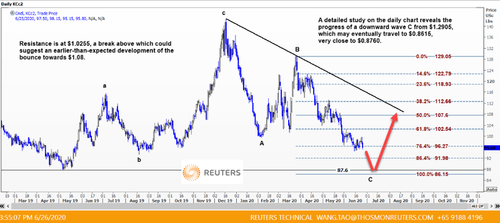 What this all suggests is that consumption is lagging - hopes for a V-shaped recovery are set to fade as economic reality should rear its ugly head this summer.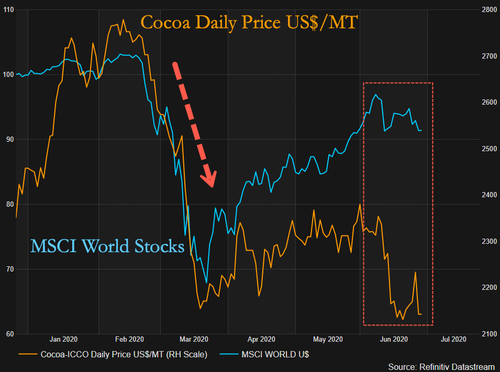 Falling spot cocoa prices could suggest the next move for global stocks is down.