---
Cocoa Squeeze Rattles London Market In Biggest Move Since 'Chocfinger'
Over the course of ten months, benchmark cocoa futures prices in London have surged by more than 51%, driven by the worsening global shortage of this crucial ingredient used in the world's sweet snacks.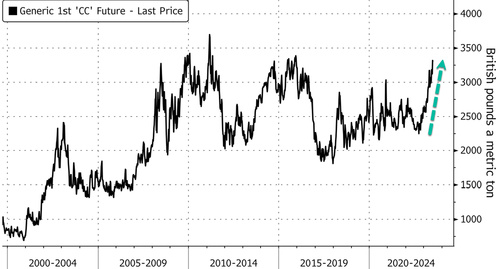 Bloomberg pointed out, "The biggest cocoa trade in more than a decade is rattling the London exchange," noting gyrations in the cocoa markets bring back memories of Anthony Ward, who co-founded trading house Armajaro, tried to corner the entire cocoa market in a legendary trade known as "Chocfinger." 
Traders have said the worsening multi-year deficits of cocoa have reduced stockpiles, forcing some chocolate makers with no other choice but to panic buy. This has unleashed a massive squeeze, sending the cocoa contracts for July to £240 a ton premium versus the next contract. 
The last time this happened was when commodities trader Ward via Armajaro's CC+ fund, took one of the largest-ever cocoa deliveries in 2010. It led to an eruption in price. 
One commodity firm has said chocolate makers have depleted reserves and are left with no other choice but to buy in the open market:
"Buyers have been behind in purchases.

 "As prices climbed and there were concerns of even higher prices, they threw in the towel to buy more," said consultant Judy Ganes, president of J. Ganes Consulting. 
That's all happening around the biggest net-short position on record by commercial players being unwound earlier this year, plus the devastating effects of El Nino on crops. 
... and what does this mean for consumers? Well, higher chocolate prices are ahead. 
Loading...