---
COVID Impact - 1.5 Billion Pound Potato Mountain Trapped In Supply Chain 
Nationwide COVID-19 lockdowns led to the collapse of the restaurant industry has disrupted critical food supply chains, such as potatoes, which had nowhere to go. The closings of restaurants, hotels, and catering firms had a chain effect that rippled down the production line to processors and growers, "trapping 1.5 billion pounds in the supply chain," said Bussiness Insider. Some farmers gave away millions of potatoes to food banks, while others were forced to destroy millions more. 
Business Insider took a trip to a potato seed farm in Sheridan, Montana, and spoke with farmers Peggy and Bill Buyan, who described the emotional and financial impact COVID-19 has caused them. 
Courtesy of Business Insider, here's an excerpt of the video transcript: 
Narrator: These potatoes aren't gonna end up on your dinner table. Their final destination is this hole. We're in the small town of Sheridan, Montana, on a potato farm. Normally this time of year, Bill and Peggy would be sending their potatoes to be planted. Instead, they're throwing away 700 tons.
Bill Buyan: The potatoes have been awful good to us for a lot of years, but this year it just really turned sour.
Narrator: And the same thing is happening across the Northwest.
Bill: I mean, it was just unprecedented. It's the supply chain from the growers to the supermarket that got interrupted.
Zak Miller: More than half of our market shut down by government mandate.
Narrator: Now farmers across Idaho and Montana are stuck with mountains of potatoes. So why did this all happen?
We visited Buyan Ranch, where Peggy and Bill have been growing potato seed for 59 years. Normally, potato production across the Northwest looks like this. It starts with a seed grower like Buyan, where farmers grow a variety of seed strains.
Zak: Virtually all the potatoes grown started out from a certified seed. That's a fairly rigorous process that avoids disease, imperfections.
Narrator: Buyan grows three different disease-free seed strains: Umatilla, Clearwater, and Russet Burbank potatoes. Each potato variety goes to a specific grower in either the fresh or processed segment. In the fresh segment…
Zak: You're actually seeing the potato in its true form.
Narrator: That's foods like a raw potato at a grocery store or au gratin potatoes at your favorite restaurant.
Zak: The other side of that is – we call it our process segment. You don't actually see the potato; you see the byproduct or the end result of that.
Narrator: That's the bag of potato chips, the french fries at McDonald's, or the precut fries in the frozen section.
Zak: If you're a fresh-product grower, you'll plant a different variety, or a different genetic line of potatoes. If you're a process grower, you'll grow a different product line. Just, some fry better, they have a better color to them. Others grow better.
Narrator: Now back to the farm. Potato growers get the seed from Buyan and start planting in March, then they harvest in early fall. Once the potatoes are out of the ground, they go into storage or are sent to a factory, where they're cleaned and turned into either fresh or processed potatoes.
Zak: When COVID hit, we had a huge run on retail, which lasted for about a week to two weeks, but then when we shut off all the restaurants, that's when everything came out of kilter.
Narrator: Potatoes for food service, like restaurants, hotels, and catering, make up an estimated 55% of all potato crops.
Zak: Think of everything from white-table restaurants clear down to your fast, quick service.
Narrator: So when food-service establishments shut down because of COVID-19, it was a chain effect. Processors cut down orders with growers. Out of options, the growers cut their orders with seed farmers. And more than half of the industry's potatoes were stranded on seed farms. In Peggy's case, her customers in Washington were cut back more than 50%, and she and Bill were stuck with tons of seed they'd normally sell.
Zak: You can't take some of these facilities that are built directly for food service and then tomorrow flip a switch and make them able to sell into retail. You're asking – a square peg in a round hole, I guess, is the best analogy I can come up with.
Narrator: The surplus potatoes also couldn't just be sent to grocery stores.
Zak: Grocery stores or retails would have been bursting to the seams with potatoes if we had redirected all that.
Bill: We had high hopes that maybe something would turn up, you know? That in a month or so, we might be able to send them somewhere for some kind of processing. But this year's, there's just no market for them, and we're just taking them out, taking them into a burial pit.
Narrator: Peggy and Bill have been forced to bury 1.4 million pounds of potatoes in total.
*  *  *
A second round of the virus could be underway. This would absolutely devastate the farming industry that could spiral into collapse. Virus cases are surging across the nation, hitting record one-day totals, which has forced many states to pause or reverse reopening.
Goldman Sach's latest state-level coronavirus tracker calculates 40% of the US has now reversed or placed reopening on hold. 
"Arizona has now joined Florida, Texas and California in beginning to reverse reopening policy, bringing the share of the population in states where policy is becoming more restrictive up to 30% over just the past five days. Governors of several smaller states have announced their reopenings are on hold, and yesterday the governors of New York, Pennsylvania, and Connecticut each said they are considering postponing reopening plans as well," we noted.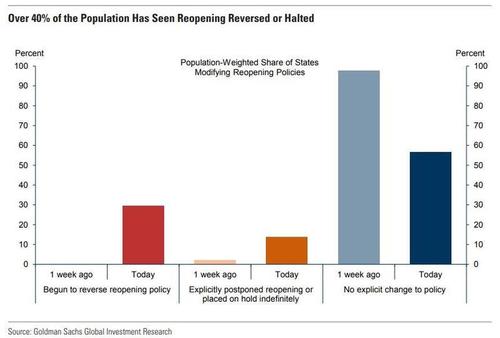 The US reported 50,000 new coronavirus cases on Wednesday, the highest single-day total since the start of the pandemic.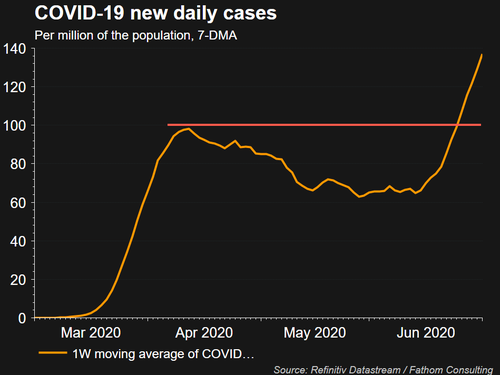 As the virus reemerges, states pause or reverse reopenings, businesses will operate at limited capacity or not at all - suggesting farmers could see another round of pain. 
To make matters worse, China has ditched US farmers for ones in Latin America. 
Time for President Trump to bailout out farmers for the.... (we lost count).