---
"Devastating" Hurricane Eta To Strike Nicaragua Early Tuesday 
With about a month left of the hurricane season, Tropical Storm Eta was upgraded Monday morning to a Category 1 hurricane while moving towards Central America, the U.S. National Hurricane Center (NHC) reported. 
Eta is the 28th named storm and the 12th hurricane in a super active season. The hurricane could strengthen to a Category 2 or 3 before making landfall in Nicaragua on Tuesday morning.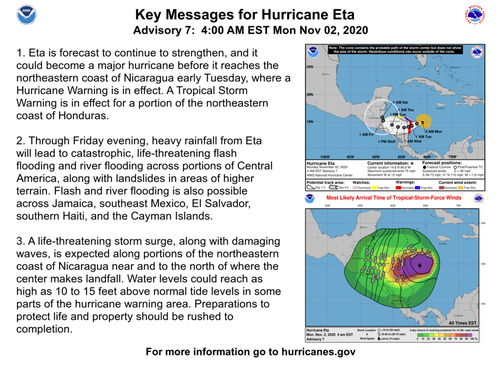 As of Monday morning, Eta had maximum sustained winds of 90 mph, an increase of 15 mph from 75 mph in the overnight hours. The hurricane's center was about 140 miles east of the Nicaragua-Honduras border and moving west at 10 mph.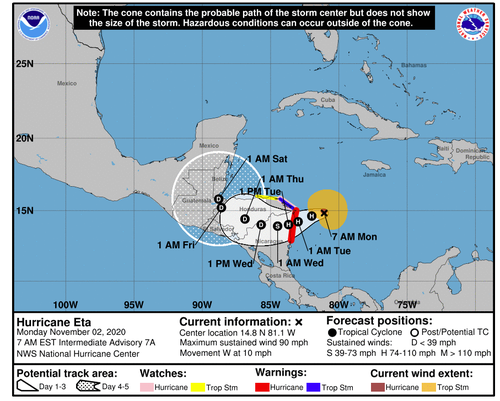 Nicaragua and Honduras could see upwards of 25 inches of rain, life-threatening storm surge, damaging winds, and flash flooding.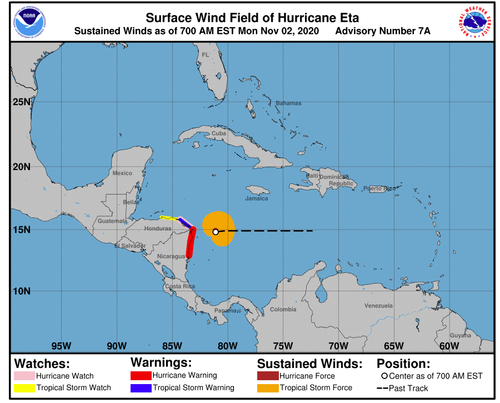 According to CBS News' David Parkinson, Eta "will jump from a Category 1 to a Category 3" before making landfall Tuesday morning as a major hurricane. 
Parkinson said the hurricane would be "devastating" to Central America.
Philip Klotzbach, a research scientist at Colorado State University in Fort Collins, tweeted that only three other Atlantic hurricane seasons on record had recorded 12 hurricanes: "1969 (12 hurricanes), 2005 (15 hurricanes) and 2010 (12 hurricanes)." 
#Eta is now a #hurricane - the 12th hurricane of the 2020 Atlantic hurricane season to date. Only 3 other full Atlantic hurricane seasons on record have had 12+ hurricanes: 1969 (12 hurricanes), 2005 (15 hurricanes) and 2010 (12 hurricanes). pic.twitter.com/vlALX2ZzH4

— Philip Klotzbach (@philklotzbach) November 2, 2020
Keep an eye on Eta's path, after landfall Tuesday, it could shift towards the Yucatan Peninsula by the weekend.