---
Drug And Food Shortages Are Here, And They Will Get A Lot Worse...
Authored by Michael Snyder via End of the American Dream,
A lot of the experts didn't think that this would happen.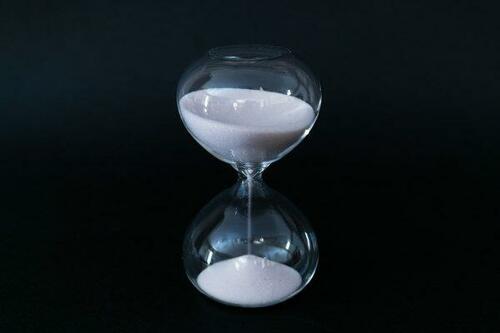 Once the pandemic subsided, global supply chains were supposed to return to normal.  But now "hundreds of drugs" are in short supply in the United States, and even CNN is admitting that we are in the midst of "the worst food crisis in modern history".  As I did research for this article, I was stunned by what I discovered.  Things are worse than I realized.  I knew that a lot of drugs were in short supply, but it turns out that there have been shortages of many of our most basic antibiotics since last October, and now Pfizer is telling us that several types of penicillin will completely run out later this year…
Pfizer will run out of several doses of penicillin, which treat syphilis, strep throat, and other infections, later this year as shortages ripple across the US supply chain.

The company anticipates running out of the children's dose of the syphilis drug Bicillin L-A by the end of June, according to a letter Pfizer posted Tuesday on the Food and Drug Administration's website. The company says it's prioritizing production of larger doses of Bicillin L-A, which is recommended for pregnant people with syphilis because it is the only drug that can pass through the placenta and also treat the fetus.

A different Pfizer penicillin, Bicillin C-R that treats other bacterial infections but not syphilis, is expected to run out in the third quarter, which ends Sept. 30. Pfizer's penicillin has been in shortage since April.
Of course there are growing shortages of many other commonly used drugs.
For example, one recent survey discovered that most cancer centers in the U.S. "are reporting shortages of commonly used chemotherapy drugs"…
A recent survey found that a majority of cancer centers are reporting shortages of commonly used chemotherapy drugs used to treat a wide variety of cancers.

Much of the current shortage stems from the temporary closure of a drug manufacturing facility in India that happened after the Food and Drug Administration (FDA) found issues in the plant's quality control.
After I first read that, I immediately had one burning question come to mind.
Why in the world are we having our chemotherapy drugs manufactured in India?
Once the war between the U.S. and China starts, it is going to be exceedingly difficult to get things shipped across the Pacific.
So what are we going to do then?
Already, certain chemotherapy drugs are in such short supply that some doctors are being forced to ration care…
Cancer drugs, including widely used cisplatin and carboplatin, are in such short supply that doctors are rationing care, asking patients to drive long distances for treatment, or turning to alternative treatments with riskier side effects.
This wasn't supposed to happen.
But it is happening.
In fact, the New York Times is telling us that there are shortages of "hundreds of drugs" in the United States right now…
Hundreds of drugs are on the list of medications in short supply in the United States, as officials grapple with an opaque and sometimes interrupted supply chain, quality and financial issues that are leading to manufacturing shutdowns.

The shortages are so acute that they are commanding the attention of the White House and Congress, which are examining the underlying causes of the faltering generic drug market, which accounts for about 90 percent of domestic prescriptions.
Meanwhile, global supplies of food just continue to get even tighter, and this is going to greatly affect consumers here in this country.
According to Zero Hedge, global cocoa supplies are becoming extremely tight and this could push chocolate prices to dizzying heights…
Cocoa prices have soared 44% over the last nine months to seven-year highs as the global cocoa bean deficit worsens for the second consecutive year.

"The cocoa market has experienced a remarkable surge in prices … This season marks the second consecutive deficit, with cocoa ending stocks expected to dwindle to unusually low levels," S&P Global Commodity Insights' Principal Research Analyst Sergey Chetvertakov told CNBC via email.
If you love chocolate, I would stock up now while you still can.
In addition, Zero Hedge is also reporting that there are very serious concerns about global supply levels of sugar and coffee…
With cocoa consumption at record highs in some Western countries, a worsening global bean deficit will only support higher prices.

Meanwhile, sugar prices hit decade highs on global shortage fears in April. And robusta coffee prices hit a record high days ago on supply fears.

There are just some grocery store aisles where inflation looks exceptionally sticky.
Most of us could live without chocolate, sugar and coffee.
But what about the basics?
One food bank in southern Georgia is warning that they are facing a severe shortage of food and they are desperate for help…
"We're just, we're experiencing the biggest food shortage we have in the 40 years of food banking," CEO of Feeding the Valley Food Bank Frank Sheppard said. "And it's pandemic related. It's really a number of causes our federal government and state governments provided a plentiful amount of food during the pandemic to help so many more people in need. And those supply lines are just a little slow to replenish. Then you have the whole supply chain issue. Things are just taking 3, 4, 5, 10 times as long to get to us as they used to and rapid inflation is affecting a lot of people, a lot of our donors as well. So it's really just a perfect storm, unfortunately of circumstances that has got our inventories at record low levels."
Hopefully some people will step up and help them out.
But the truth is that supplies of food are only going to get tighter and tighter in the months ahead.
In a previous article, I discussed the following facts…
-The winter wheat harvest in Kansas this year is going to be the smallest since 1957.
-U.S. corn prices are expected to soar because the Corn Belt is being hit by the worst drought in 30 years.
-The size of the U.S. beef cow herd has fallen to the lowest level since 1962.
-The orange harvest in Florida in 2023 will be approximately 56 percent smaller than it was in 2022.
-Thanks to absolutely crazy weather patterns, approximately 90 percent of Georgia's peach crop for this year has been wiped out.
On top of everything else, now millions of Mormon crickets have invaded Nevada, and they are eating everything in sight…
According to the University of Nevada in Reno, Mormon crickets eat native, herbaceous perennials (forbs), grasses, shrubs, and cultivated forage crops, reducing feed for grazing wildlife and livestock. In large numbers, their feeding can contribute to soil erosion, poor water quality, nutrient-depleted soils, and potentially cause damage to range and cropland ecosystems.

Drought encourages Mormon cricket outbreaks, which may last several years (historically 5 to 21 years) and cause substantial economic losses to rangeland, cropland, and home gardens. This is particularly true as adults and nymphs of Mormon crickets migrate in a band, eating plants along their path.
And of course all of this is happening in the context of a horrific global food crisis.
According to one recent report, the number of people around the globe that are facing "acute food insecurity" increased by a whopping 34 percent last year…
The report concluded that the number of people facing acute food insecurity in 58 countries and territories in 2022 was 258 million, and this was the highest in the seven-year history of the report, signifying a deteriorating trend in global acute food insecurity. In 2021, 193 million people in 53 countries and territories faced acute hunger, so the figure for 2022 reflected a 34 percent jump within just one year.
A global famine has begun.
And it will eventually get a whole lot worse.
If you have not been preparing for such a scenario, I would strongly encourage you to get started.
As I have detailed in this article, drug and food shortages are already here, and what we have been through so far is just the tip of the iceberg.
Loading...