---
Eggflation Ends With Cal-Maine Shares Down The Most Since 2008
On Tuesday, financial services firm Stephens Inc. lowered their rating of Cal-Maine Foods from overweight to equal weight, pointing to concerns about plunging wholesale egg prices as the reason. 
Stephens research analyst covering the consumer staples, food and agribusiness, and grocery/c-store sectors Ben Bienvenu said in a recent conference call with Urner Barry, a market research firm that tracks wholesale food prices, that wholesale egg price trends were "understandably more downbeat."  
"When considering what's currently playing out for eggs, we think it is best for us move to the sidelines on Cal-Maine as we think risk/reward is now more balanced," the analyst said. 
Bienvenu is one of a handful of Wall Street analysts covering Cal-Maine. He said collapsing egg prices threaten to depress the earnings of the egg producer, which recorded revenue last quarter that was more than double the same period last year. Net income for the company jumped more than 700% to $323 million. 
Cal-Maine shares are down 19%, the most significant monthly plunge since September 2008. The analyst lowered his price target to $60 from $67. Shares currently trade around the $49 handle.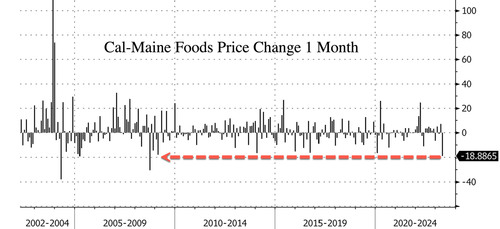 On Feb. 6, we were the first to point out: We've Got Great News: Wholesale Egg Prices "Collapse." At the time, the index of wholesale egg prices plunged from around $4.65 to $2.01. Now the index stands at .887 cents.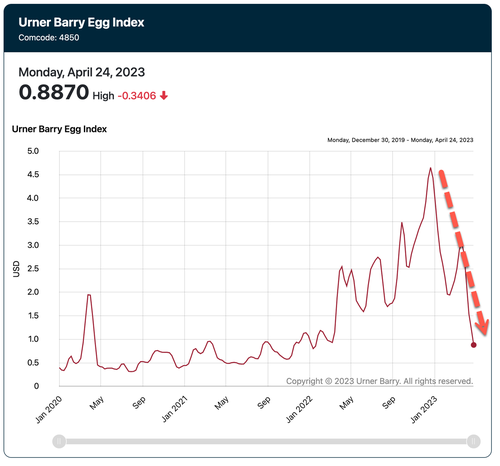 Bienvenu said that a crucial factor for Cal-Maine investors to keep an eye on is the potential re-emergence of bird flu: 
"While there certainly could still be cases that arise, and that would negatively impact production and consequently result in higher prices, we think at this point it is prudent to no longer recommend putting new money to work in the space."
Retail egg prices at supermarkets have already begun to slide after the worst avian flu outbreak ever devastated domestic egg-laying bird populations last year. 
Now comes egg deflation unless bird flu reemerges.  
Loading...