---
EU Eyes 90% CO2 Cut By 2040 For Trucks
By Julieanne Geiger of Oilprice.com
The European Commission proposed tighter CO2 rules for heavy-duty vehicles this week, mandating that all new trucks reduce emissions by 90% by 2040 and all new city buses emit zero emissions starting in just 7 years, by 2030, according to a statement from the European Commission.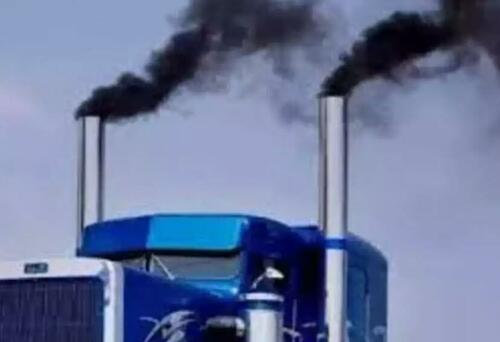 The EU's objective is not only to help the EU get closer to its zero net greenhouse gas emissions by 2050, but to reduce its imported fossil fuels as well. There is already an agreement for new cars to be CO2-free by 2035, Reuters reported on Tuesday.
"The road transport sector represents one fifth of the EU's greenhouse gas (GHG) emissions and is the main cause of air pollution in cities," the Commission said, adding that the transport sector is the only sector in the EU where emissions have continued to rise in recent years. Heavy-duty trucks and buses are responsible for more than 25% of GHG emissions from road transport in the EU and 6% of total EU GHG emissions.
The Commission suggested that manufacturers must have to cut the typical CO2 emissions of the new trucks they sell by 90% from 2019 levels by 2040.
They would also have to reduce CO2 by 65% starting in 2035.
The EU opted for a 90% target instead of a 100% target for now because, according to EU climate policy chief Frans Timmermans, zero-emissions technologies isn't yet available for all trucks, and they don't know when it will be.
The ultimate goal is still a 100% reduction in CO2 emissions for cars and trucks, but the EU did not comment on when the target might be shifted. 
Environmentalists who were hoping for more are unhappy that the bloc decided to forgo the last 10 percent. "Polluting trucks will continue to be sold for years longer than necessary, making the EU's net zero goal impossible," a freight manager at the Transport & Environment campaign group said, cited by Reuters, in response to the EU's Tuesday announcement.
Loading...