---
EU NatGas Soars Most In Year As Traders On Edge About 'Possibility Of Tightening Supplies'
European natural gas prices erupted Friday for the largest daily gain in a year as Bloomberg pointed out, "Traders reassess supply risks amid signs of global competition for the fuel and a heat wave bearing down on the region." 
The price of benchmark TTF jumped above 33 euro a megawatt-hour, up more than 23% on the session, rebounding from lows last seen before Russia squeezed Europe's pipeline NatGas supplies ahead of the Ukraine war. Contracts have found a 22-euro floor after falling 91% over the last ten months.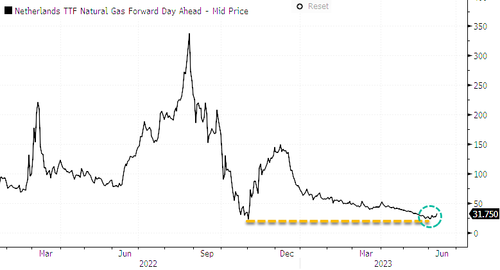 The one-day 23% surge is the largest since mid-June 2022, or about one year ago.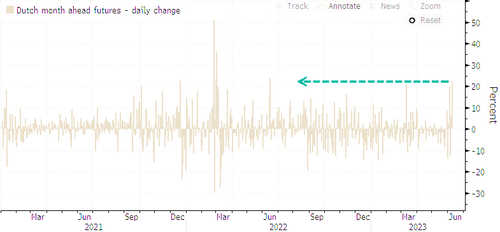 A warm winter, slowing economic activity, and robust supplies have depressed prices since the end of last summer. Bloomberg said, "Traders are on edge about the possibility of tightening supplies." 
James Waddell, head of European gas and global LNG at consultant Energy Aspects Ltd, said strong flows of liquefied natural gas from Russia Norway, Europe's biggest supplier, could slide in the coming months due to several outages. 
Waddell said "physical concerns" are mounting about LNG that it unleashed a short squeeze and "stopped out a lot of traders who were shorting this market." He added, "That's given an extra boost to the TTF." 
The surge is also a sign traders are looking at temperatures as the Northern Hemisphere summer is about to begin. The need for cooling buildings across Europe, Asia, and even the US will increase power demand and might support NatGas prices. 
"The heat wave in Northeast Asia over the next couple of weeks will also drive up cooling demand, and there will be more interest in cargoes from price-sensitive buyers in the region," Waddell said, adding, "We are also anticipating a heavy maintenance schedule for LNG export facilities this summer." 
Despite today's price surge, traders and analysts are concerned about Europe's recession as it likely weighs on industrial demand. So any price spike might be short-lived. 
Loading...