---
Europe Forecast To End Winter With NatGas Inventories Half Full
Europe's underground natural gas storage is forecasted to end the winter season above the 50% mark and might have enough supplies to replenish inventory back to adequate levels before the start of next winter. 
Europe is on track to end the winter with its gas inventories over 50% full and to have more than enough gas to completely replenish its storage by the start of next winter, according to the latest forecasts from BloombergNEF. This comes as the recent crash in prices is not expected to be enough to rekindle demand for liquefied natural gas in Asia, and demand destruction in Europe, particularly in the power sector, continues. -- BloombergNEF. 
Mild weather has helped the energy-stricken continent overcome a sharp drawdown in supplies.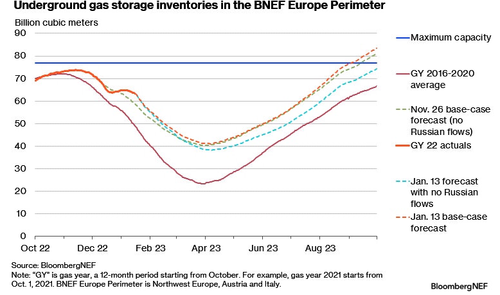 The European Union has severed energy trading with Russia. It's no longer receiving coal and crude oil, and NatGas has been significantly reduced. The Bloc has rejiggered energy supply chains to receive shipments of liquefied natural gas from the US, Qatar, and other major producers. 
"The more gas we have in storage facilities at the beginning of the year, the less stress and cost we will face in filling them again for next winter," said Klaus Mueller, head of Germany's network regulator. 
Morgan Stanley recently noted that European NatGas consumption would be 16% below five-year average levels throughout the year. 
Benchmark NatGas prices have tumbled a staggering 80% since last August.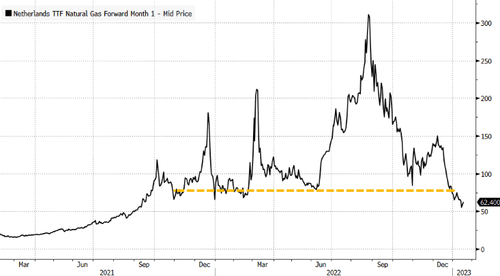 However, colder weather swept across parts of the continent this week, boosting heating demand.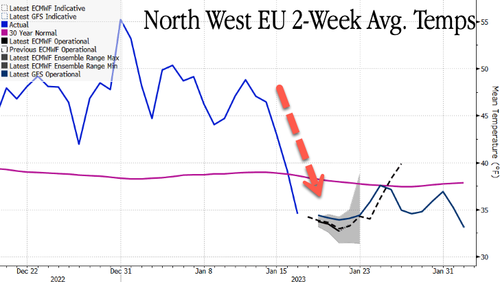 Europe might be in a better position than once feared, but it is not yet out of the woods. 
Loading...