---
Nat Gas Prices Set To Soar As First Cold Blast To Strike Eastern US Next Week
A significant cooldown has arrived, with the jet stream from Canada plunging this weekend, which will allow the eastern United States to experience its first taste of fall for much of next week. 
The ten-day outlook in terms of the thermal aspect shows a cold airmass will encompass all U.S. Plains, Midwest, Southeast, and Northeast, where temperatures could hover 8 to 15 degrees below normal through the first week of October. 
E.C. Operational Forecast (with gray 32 degrees Fahrenheit line) shows the blast of cold air pouring in from Canada this weekend and will cover much of the eastern U.S. through Oct. 6.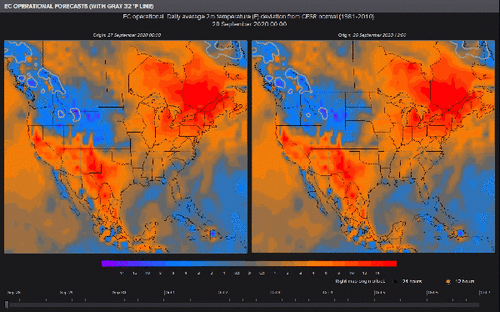 As for frost risks over the next ten days, Reuters' commodity desk said:
"Although the greatest cool anomalies should be observed in Missouri and surrounding states, the risk for occasional and short-lasting overnight frost risks are on the rise across the upper Midwest. As for now, confidence in frost appearance is rather low, but the situation should be monitored and updated over the next week."
The National Weather Service announced a moderate to high risk for cooler temperatures from the Midwest to the Mid-Atlantic between Oct. 1 and 7.