---
Freeport LNG Makes Progress Towards Partial Restart With Key FERC Request
Freeport LNG, the second largest US liquefied natural gas exporter, reported Tuesday afternoon to the Federal Energy Regulatory Commission (FERC) that it has "successfully and safely progressed the cooldown of the Loop 1 transfer piping and reinstatement of BOG management." 
Freeport LNG asked FERC for approval to begin "(1) the nitrogen cooldown of the LNG rundown piping system and (2) the introduction of hydrocarbons to Unit 13 (Train 3) for LNG train commissioning and cooldown." They also asked for a response from the federal energy agency by tomorrow. 
Combing through Freeport's letter to FERC, Houston-based energy firm Criterion Research told clients, "the key part of this request is that it would allow Freeport to begin flowing natural gas into the pretreatment facility and then permit the initial production of LNG to flow into LNG Tanks 1 and 2 onsite."
Freeport also said that "subsequent approvals will be necessary to commence Loop 1 LNG circulation and ship loading to Dock 1, as well as the transition of Unit 13 into full, commercial operations."
The next steps for Freeport LNG will be to (1) secure approval from the FERC to begin feed gas flow & initial liquefaction operations, (2) complete that startup, and (3) request subsequent approval to commence LNG circulation and ship loading to Dock 1 #natgas #ongt #LNG #enelyst pic.twitter.com/SShFMhfSMw

— Criterion Research (@PipelineFlows) January 31, 2023
Natural gas flows to the LNG terminal increased today, much larger than in the previous weeks.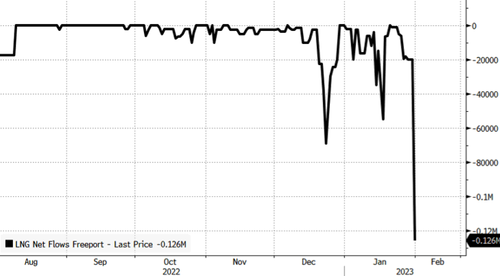 Even with the prospects of a partial restart at the second largest US terminal, NatGas prices have slid to 20-month lows due to unseasonably warm weather, increased production, and an abundance of supply.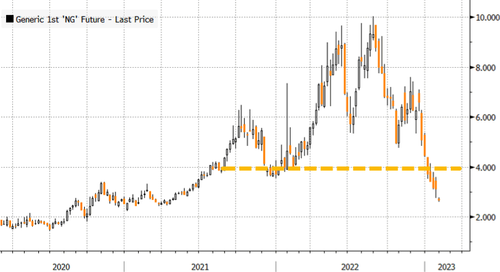 As of Tuesday afternoon, NatGas prices have yet to bounce even on this news and reports of colder air pouring into the Lower 48.
Loading...