---
Gas Prices At Pump Highest Since 2013; Biden Losing War Against Inflation
President Biden is about to have yet another major problem as the average price of gasoline surged to the highest level in seven years, according to new AAA fuel data. For this time of year, seasonal trends show prices are the highest since 2013. 

Despite Biden's attempt to squash surging fuel costs (as his war chest runs thin), AAA reported regular gasoline at the pump rose to $3.423 a gallon, a high most Americans haven't seen since September 2014.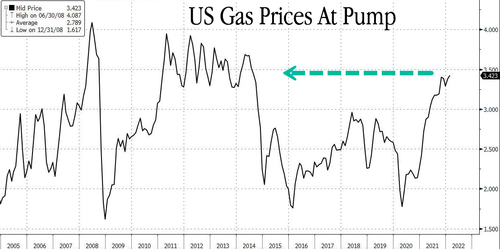 Crude prices increase amid signs of backwardation in futures contracts as demand exceeds supplies in some markets. Factor in Biden's warmongering with Russia over Ukraine, the geopolitical risk premium rises and has lifted Brent prices to over $92 a barrel.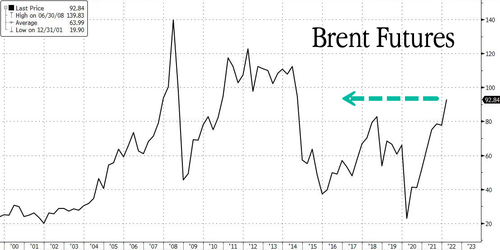 "Having drawn a line in the sand at $80 crude and about $3.30 gasoline, $3.40-plus gasoline will raise the pressure" on Biden, Paul Horsnell, head of commodities research at Standard Chartered, told Bloomberg. He said the administration could be holding back on another SPR release if tensions heat up with Russia.
The problem for Biden now is that SPR stocks are at their lowest since Oct 2002...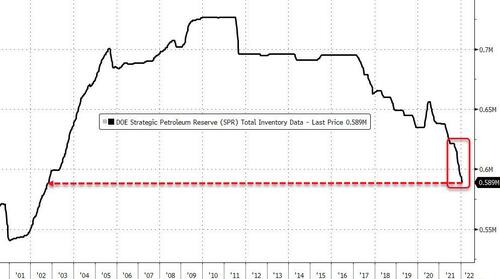 But maybe another SPR release won't work this time around as crude futures point to significantly higher gas prices at the pump in the months ahead.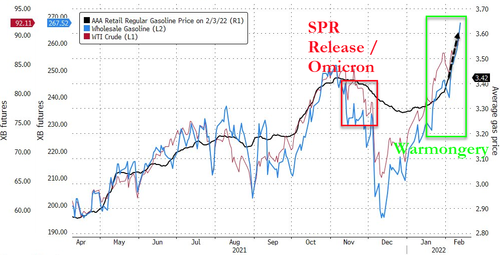 Retail gas prices at the pump for this time of year have only been higher in 2012 and 2013... and even then, it was only marginally higher. Given the chart above, we are well on our way to recording seasonal prices...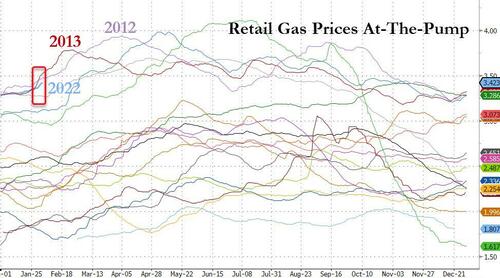 It's becoming a fact that Biden's ability to impact fuel prices is rapidly diminishing. OPEC+ has snubbed Biden's request to rapidly increase supply.
And without being able to do anything about it (except maybe incentivize domestic production and blow the minds of his progressive wing), we suspect the crossover in the chart below will continue to grow...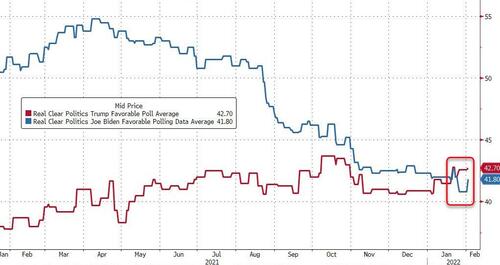 The transition to a summer grade versus winter fuel grade will increase prices further, possibly exceeding $3.50 nationally in the coming months.  
Also, inflation is widespread as consumers are plagued with some of the highest food prices in a decade and could soon pay record-high prices by spring. 
Biden is losing the war on inflation as the growing discontent for this administration will force households to vote with their depleted pocketbooks during the midterms this fall.