---
Gasoline Prices Buck The Trend Ahead Of Driving Season
By Charles Kennedy of OilPrice.com
With U.S. gasoline prices trending about 3 cents lower than the same time last week, analysts are now speculating that the banking crisis and broader financial markets concerns may prevent prices at the pump from ticking upwards as they would normally do ahead of the summer driving season.
"The broad concern over recent failures of the U.S. and global banking system has put enough downward pressure on oil prices that we saw a reprieve in rising gasoline prices in the national average last week," said Patrick DeHaan, the senior petroleum analyst for Chicago-based GasBuddy.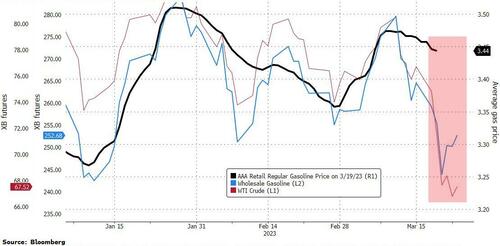 DeHaan said that while markets are volatile, and we will see some differentiation in prices as certain states switch to the more expensive summer blend of gasoline, much going forward in the immediate future depends on how the banking crisis plays out.
"Should the outlook for the banking sector improve, we could again see gasoline prices race higher, while continued or additional distress could raise the possibility of a broader economic slowdown, keeping gasoline prices in check," he said. "Overall, there are a lot of possibilities."
Shares of Credit Suisse plunged some 60% early on Monday after its rival, UBS, announced it would take over the bank for $3 billion to shore up global markets. The plunge in Credit Suisse shares last week followed the failures of U.S regional banks Silicon Valley Bank (SVB) and Signature Bank.
According to AAA, Monday's natural average per gallon of gasoline is $3.443, compared to $3.446 on Sunday, and $3.473 a week ago. Monday was the first time in two weeks that gasoline prices in the U.S. had declined.
Last week, gasoline inventories fell 2.1 million barrels amid maintenance and the usual transition to summer gasoline began to replace less expensive winter fuel. Implied gasoline demand rose by 32,000 bpd. 
Loading...