---
Global Crude Demand Forecasted To Hit Record On Full China Reopening
China's pivot from awful zero Covid policies to reopening its faltering economy will boost global crude consumption to record levels this year, the Paris-based International Energy Agency wrote in a report Wednesday. 
IEA's monthly report said global supplies of crude would exceed consumption by 1 million barrels per day in the first quarter of the year. China's move to reopen its economy will be the driving force behind tightening global fuel supplies to even more extreme levels. 
The energy watchdog upgraded its outlook for China and said annual demand growth won't be realized until the second quarter. 
"As China faces a challenging winter, its exit path will unquestionably be bumpy and drawn-out," the report said, adding, "hardships and disruptions, therefore, look set to prevail in the near-term" in the country.
IEA's forecast for oil demand growth this year was bumped from 200,000 barrels a day to 1.9 million barrels a day. Increasing consumption means it expects total annual oil demand to hit 101.7 million barrels daily- a record high. 
China's abrupt zero Covid pivot has taken global oil markets by shock. A similar demand story is playing out in economies across the US and Europe. 
"Two wild cards dominate the 2023 oil market outlook: Russia and China," the report said, adding that robust demand growth would tighten "the balances as Russian supply slows under the full impact of sanctions."
Brent futures traded near $87 a barrel on Wednesday. Prices have plunged 37% since peaking above $120 in the summer of 2022. The prospects of increasing demand, primarily from China, might be the catalyst for higher prices.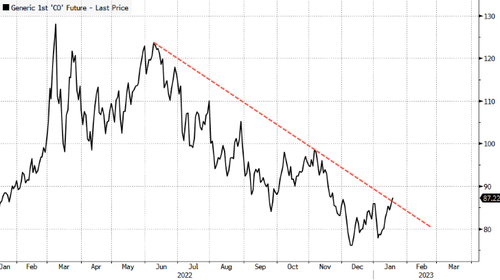 IEA pointed out that the "well-supplied" global oil market at the beginning of the year could quickly tighten due to western sanctions on Russia. 
The report added half of the forecast rise in oil consumption this year is due to China. 
That sentiment is similar to Jeff Currie, Goldman Sachs' global head of commodities research, who said Brent could reach $110 by the third quarter on a full reopening of China. 
"What is the best reopening play? It is oil," Currie told Bloomberg Television last week. 

"What is idled? Planes, trains and automobiles. You turn them all back on, that's going to be a big pop in oil demand," he said. 
The reopening of China and critically low inventories is a perfect concoction for higher commodity prices. 
"You cannot come up with a more bullish concoction for commodities," Currie said. "Lack of supply is apparent in every single market you look at, whether it is inventories at critical operating levels or production capacity exhausted."
Currie said commodities could have a 2007-08 style run-up.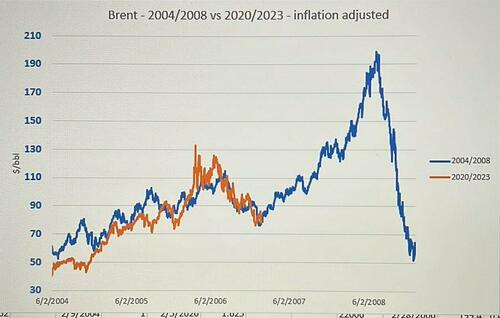 This is similar to what hedge fund manager Pierre Andurand recently noted. He predicts Brent at $140 on a full China reopening. 
Loading...