---
'Arab Spring' Risks Flourish As Global Food Prices Jump To Record High
Global food prices soared to a new record high in February, led by a massive jump in vegetable oil and dairy prices as well as higher costs for grains, according to the UN Food and Agriculture Organization (FAO). The move higher in food prices comes as the Russian invasion of Ukraine sent commodity markets into disarray, which indicates prices could continue to surge and may trigger another 'Arab Spring'. 
The FAO Food Price Index (FFPI), a measure of the monthly change in international prices of a basket of food commodities, averaged 140.7 points in February, up 3.9% from January, +24.1% compared with the same month last year, and 3.1% higher than the record in February 2011.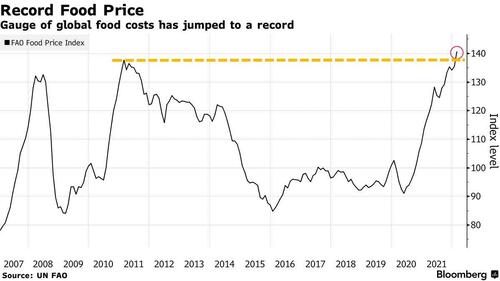 The largest mover in the index was FAO Vegetable Oils Price Index, up 8.5% over the previous month to a new record high, driven by palm, soy, and sunflower oils. The second-largest was the FAO Dairy Price Index, up 6.4% over the prior month. The FAO Cereal Price Index was +3%.  
FAO economist Upali Galketi Aratchilage said crop condition concerns and congested supply chains only tell one part of the story of why food prices are soaring. 
"A much bigger push for food price inflation comes from outside food production, particularly the energy, fertilizer and feed sectors.

"All these factors tend to squeeze profit margins of food producers, discouraging them from investing and expanding production," Aratchilage said.
The February report was likely compiled before the Russian invasion of Ukraine. Since then, commodities markets have been skyrocketing. This week alone, the Bloomberg Commodity Index recorded its largest weekly gain since the stagflationary period of the mid-1970s over the turmoil.
We noted how the invasion has choked off more than a quarter of the global wheat trade, about a fifth of corn, and 12% of all calories traded globally.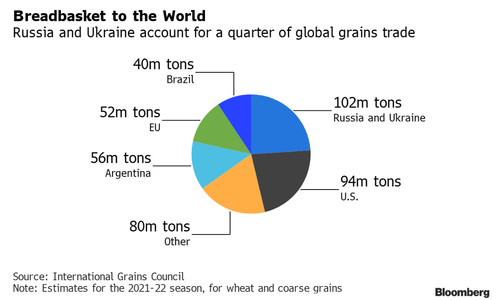 The conflict has sent wheat futures to an all-time high.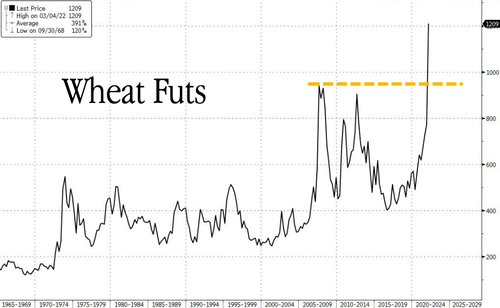 Shortage fears have sent the Bloomberg Agriculture Spot Index to new record highs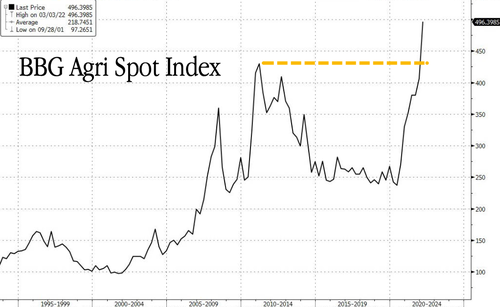 Goldman's chief commodity strategist Jeffrey Currie recently warned he's never seen commodity markets pricing in the shortages they are now.
Upending global food markets will likely mean the inflation story is far from over as prices could track higher. This has been a cause for concern by the president of the World Bank, David Malpass, warning about the damaging impacts of the conflict on global food supplies, prices, and further tangled supply chains.
Malpass said the invasion has pushed up food prices, which is a "real consideration" for those living in emerging market economies because more of their household budgets are dedicated to purchasing food. 
He added: "There's no way to adjust quickly enough to the loss of supply from Ukraine and from Russia, and so that adds to prices." 
Everyone's favorite permabear, SocGen's Albert Edwards, opined two years ago about future agricultural price shocks and how they could cause another Arab Spring of early 2011.
With a food crisis imminent, Edward's prediction of another round of social unrest due to soaring commodity prices could be nearing as food prices are now above 2011 levels. 
Loading...