---
Global Food Prices Rise As Famine Threat Emerges 
Food prices continue rising during the coronavirus pandemic, jeopardizing food security for tens of millions worldwide.
On Thursday, the Food and Agriculture Organization (FAO) of the United Nations said world food prices rose for the fourth consecutive month in September, led by surging prices for cereals and vegetable oils, reported Reuters. 
FAO's food price index, which tracks the international prices of the top traded food commodities (cereals, oilseeds, dairy products, meat, and sugar), averaged 97.9 in September versus a downwardly revised 95.9 in August.  
FAO's cereal price index jumped 5.1% in September and is 13.6% above its value one year earlier. 
"Higher wheat price quotations led the increase, spurred by brisk trade activity amid concerns over production prospects in the southern hemisphere as well as dry conditions affecting winter wheat sowings around Europe," FAO said.
Vegetable oil price soared 6% in September, over August prices, due to rising palm, sunflower seeds, and soy oil prices, hitting 8-month highs. 
Dairy prices barely budged over the month, with moderate price increases for butter, cheese, and skim milk powder, offset by a decline in whole milk powder. 
Sugar prices declined 2.6% over the month, mainly because of a global glut expected to persist through the 2021 season. 
Meat prices slipped .9% on the month and were +9.4% year-on-year, with prices for pork slumping due to China's ban on pork imports from Germany after several cases of African swine fever were recently found. 
As outlined by The World Bank in September, rising food costs because of the virus pandemic have significant impacts on vulnerable households, many of which are being crushed into poverty and hunger. 
"As the coronavirus crisis unfolds, disruptions in domestic food supply chains, other shocks affecting food production, and loss of incomes and remittances are creating strong tensions and food security risks in many countries," The World Bank said. 
In August, UN World Food Program (WFP) Director David Beasley warned that $5 billion in emergency funds are needed within six months to avert a global famine. 
UN secretary-general, Antonio Guterres recently said the world is experiencing one of the worst food crises in five decades. The virus-related downturn is driving wealth inequality to extremes and pushing millions of people into extreme poverty. 
Here are the highest at-risk areas for a food crisis breakout: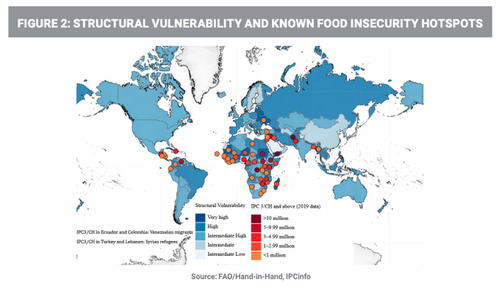 Food insecurity risks, produced by soaring prices and disrupted supply chains because of the virus pandemic, are not limited to the US. A top food bank in the country recently warned of a nationwide "meal shortage" in the next 12 months. 
And throughout history, food price volatility and disruptions have often resulted in social unrest. An unintended consequence of the global downturn could be a continuation of the social unrest, seen across the world.