---
Goldman Sees Oil Rising To $65 In 2021 But Turbulence In The Near-Term
As the global economy makes its way through the covid pandemics, the question asked by all economists is when do we return to normal; one asset class that is especially interested in the answer is oil, having suffered tremendous losses in a year when virtually every other asset generated tremendous returns on the back of a liquidity firehose from central banks, even though oil prices did reach their highest post-COVID levels last week, with Brent spot near $48/bbl, supported by encouraging vaccine results as well as rising tensions in the Middle East.
One attempt to answer the question of when oil will "normalize" comes from Goldman commodity strategy Damien Courvalin who wrote overnight that he expects further oil price upside to $65/bbl through 2021 "as the oil market rebalances due to a large vaccine-led demand rebound as well as an only modest non-OPEC supply response."
Where there is uncertainty is what happens in the next few months: as he adds, "in the short-term, however, the oil market faces spreading lockdowns with demand declining in Europe and the range of infections likely asymmetric to the upside through the winter. We expect this winter wave to generate a 3 mb/d hit to global oil demand, only partially offset by heating, EM and restocking demand, although this demand hit has so far been masked by strong Asian crude buying and restocking."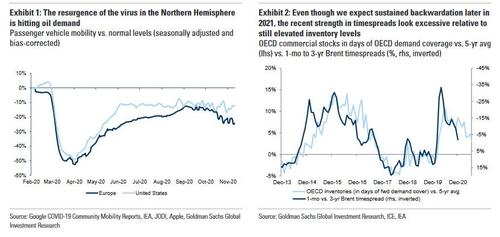 As such, Goldman expects these "muddied short-term fundamental signals" and the opposite pulls of lockdowns vs. vaccines to keep oil prices volatile in coming weeks. These cross-currents will further complicate OPEC+'s decision this week to delay or implement its scheduled 1.9 mb/d January production increase. Indeed, moments ago the first OPEC meeting closed with no resolution on whether to extend production cuts over objections from UAE and Kazakhstan. Here is Goldman on what happens next:
While we base-case a 3-month delay to prevent a return to a global oil surplus through 1Q21, not all producers appear onboard, with a lack of extension representing $5/bbl downside from current spot levels on our modeling, further contributing to short-term price gyrations.
That said, while spot prices are likely to remain unanchored, Goldman sees crude timespreads as physically bound and screen as too strong relative to still elevated inventory levels, buoyed by recent short-covering financial flows and transient Asian crude buying. The bank therefore expects a pull-back in Brent timespreads, with sustainable backwardation not likely until 2H21:
We therefore recommend taking profit on our long Jun-21 vs. Jun-22 Brent timespread trade recommendation, first recommended on May 1, for a total potential profit of $4.82/bbl (as of market open on Sunday, November 29).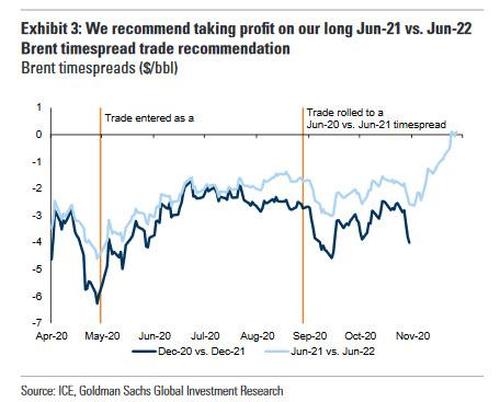 In conclusion, the Goldman strategist who correctly called April's WTI plunge into negative over a month before it happened, believes "that these winter headwinds are just speed bumps on the path to a tightening oil market, with the winter COVID wave delaying but not derailing the oil market rebalancing, with normalized OECD stocks, OPEC+ spare capacity returning to 1Q20 levels and finally needed shale production growth all occurring by 4Q21."
The bank's recommendation: "go long Dec-21 Brent forwards, our preferred expression of oil's 2021 rally, as well as for producers to wait to hedge."