---
Heat Wave To Bake Significant Parts Of US Through Mid-July  
Extreme temperatures, mostly in the mid/the high 90s, are expected for the first half of July for much of the U.S., reported The Weather Channel. 
These hotter-than-usual temperatures have already begun this week and will bake a significant part of the country this holiday weekend, with elevated temperatures forecasted through the midpoint of the month. 
Current weather models show a heat dome is expected for much of the country: 
A broad ridge of high pressure and a jet stream that will remain well to the north will allow heat to spread across large sections of the Plains, Midwest, Northeast, and Rockies.

This pattern will be supported by two domes of high pressure – one over the East and a second, stronger dome over the Southwest – that will cause air to sink and warm over their respective regions. The domes will also bring warmer air northward on their western and northern sides and diminish rain chances. - The Weather Channel 
North America Temperature/Precipitation Anomalies: 4-Week Average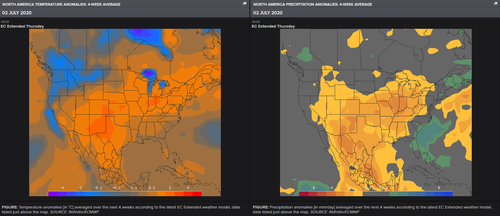 The epicenter of the heat will be centered initially around the Great Lakes area, then spread to much of the Midwest, Southeast, Mid-Atlantic, and Northeast. Temperatures will be 20 degrees above average in the Upper Midwest on July 4. 
"The first half of July looks to have well-above-normal temperatures, at pretty high probabilities, beginning around the Fourth of July or slightly before," Jon Gottschalck, chief of the Operational Prediction Branch at the National Weather Service's Climate Prediction Center, told NBC News. 
Many large metropolitan areas in the Midwest and Northeast will be +10 degrees above average through the holiday weekend - an indication that energy demand will surge.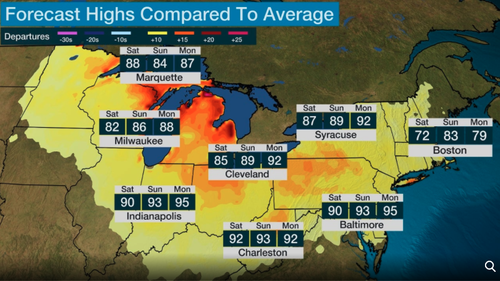 The most common use of degree days is for tracking energy usage - so we will examine cooling degree days (CDD) in several U.S. regions to determine a spike in energy usage is imminent. 
Midwest CDD
Central CDD
Northeast CDD
Southeast CDD
Now looking at energy load forecasts - the New York Independent System Operator Inc (NYISO) shows energy demand is set to move higher this weekend.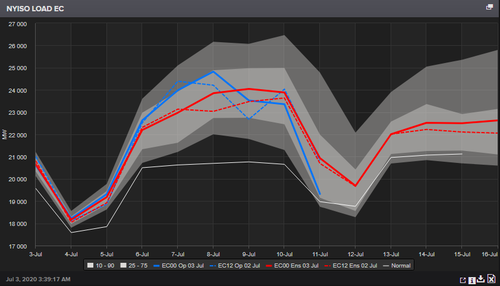 Load forecasts for all or parts of Delaware, Illinois, Indiana, Kentucky, Maryland, Michigan, New Jersey, North Carolina, Ohio, Pennsylvania, Tennessee, Virginia, West Virginia and the District of Columbia (via PJM East Load E.C.) shows electricity usage set to surge on July 4.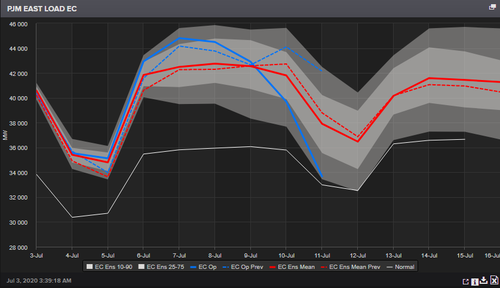 The ag-commodity team at Reuters notes the extent of the heat wave in July and how the Midwest should expect "dryness risks:" 
Over the last couple of days, weather forecasts for key crop areas continue to imply a warm bias, with relatively extensive warmth through the next 10-15 days. The most anomalous heat will be centered across the Great Lakes, where temperatures could be up to 10 °F above normal on average over the next 10 days. More muted heat is expected in most other areas, with temperatures nearing normal across portions of the Plains based on the latest E.C. guidance in particular. With climatological temperatures peaks on the way during July, even 'average' conditions in parts should produce widespread 90 °F high temperatures across a majority of crucial crop regions.

On rainfall, recent model guidance has continued to show signs of a very dry period across the Midwest, consistently between GFS & E.C. guidance. This dry stretch appears to encompass Nebraska across to Indiana most significantly, across some of the densest corn and soybean production areas of the Midwest, with less than 1 inch (~25 mm) of rainfall through the next 10 days. This pattern could manifest in a summerlike "ring of fire" pattern, where portions of the Upper Midwest and northern Great Lakes receive clusters of rain and thunderstorms. While it currently looks like the key 'I-states' will miss out on adequate rainfall, this pattern should be watched closely as such patterns are typically suspect of these thunderstorm clusters sinking south.

Even moderate heat in conjunction with very dry conditions (sometimes referred to as a 'flash drought' situation) as crops approach critical grain and pod fill stages in the next several weeks could diminish conditions and should be watched closely. A warm bias in the forecast has been fairly consistent for several days now, but acute dryness does appear more severe than it did early in the week. Across the border into Canada, the lack of moisture in portions of the southern Prairies might pose serious yield risks, as most of Canada's spring crops are now entering the prime growing season. Deteriorating U.S. spring wheat conditions should be monitored closely as well, although healthy rains main align nicely across the Dakotas and Minnesota through 10 days (as shown in the map below).

In addition to short-term GFS & E.C. guidance, the next 4-week outlook from the E.C. Extended model will be released later this afternoon (U.S. time) and should also be monitored for trends as well. The last update from Monday (29 Jun) featured widespread warm and dry conditions to most key crop areas during July overall.

- Reuters 
We said Thursday, the next big fundamental move for U.S. agriculture traders would be weather reports in the coming weeks.   
As for now - enjoy the dog days of summer as a surge in energy usage will likely lead to higher electricity bills - knowing that, along with the employment situation - how many broke Americans will have to move up their thermostat this summer as they simply can not afford to cool their home during the recession?