---
Meteorologists Warn Of Punishing Christmas Eve Storm
Throughout Wednesday, snow will fall across the Upper Midwest. Winter storm watches and warnings are in effect for North and South Dakota, Nebraska, Iowa, Minnesota, and parts of Wisconsin.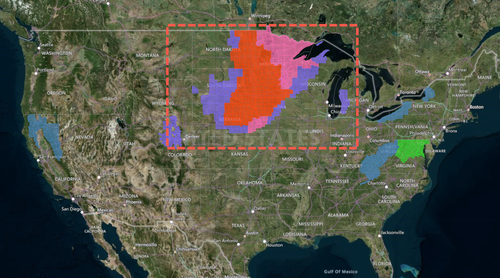 The National Weather Service (NWS) says blizzard conditions are possible through Wednesday in central North Dakota.
"Winds could gust as high as 60 mph, causing significantly reduced visibilities in blowing snow," according to NWS. 
As the storm moves towards the East Coast on Christmas, it will become a significant rainmaker from the Deep South to Upstate New York. 
CNN meteorologist Gene Norman said this storm could produce "dangerous winds and even a few brief isolated tornadoes. Especially at risk on Christmas Eve are eastern sections of North and South Carolina, southern Georgia and Alabama, and parts of the Florida Panhandle."
Snow is expected from the Ohio Valley to the Tennessee Valley on Thursday afternoon. Much of West Virginia and Eastern Ohio could record upwards of half a foot of snow depending on elevation. 
Meteorologists at BAMWX outline the "highest threat" area of potential snowfall for the Christmas Eve winter storm.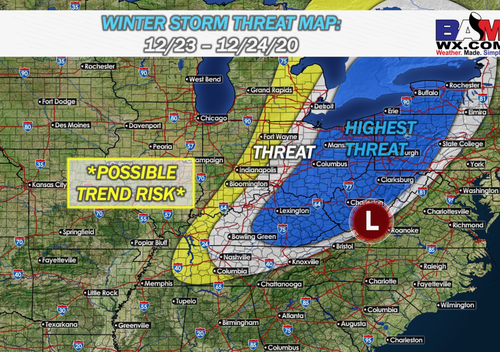 This time around, big cities in the Mid-Atlantic and Northeast will see rain on Christmas eve. 
New York, Binghamton's NWS warns residents that "where recent heavy snow fell, this could add weight to old snowpack on roofs/structures resulting in collapsed structures."
Snow showers today and tonight. Quiet Wednesday. Focus remains on Thursday and Friday. Heavy rain and rapid snowmelt Thursday increase risk for ponding and adds weight to old snow pack on structures. Snow late Thursday night and wet surfaces quickly ice over. #nywx #pawx pic.twitter.com/I0DcQYCHrK

— NWS Binghamton (@NWSBinghamton) December 22, 2020
After the storm clears out by the end of the week, the country's eastern half will get blasted with Arctic air through the weekend.