---
Hurricane Delta "Rapidly Intensifies" As It Crosses Gulf Of Mexico; Forecast To Hit US Friday
Hurricane Delta has rapidly intensified over the last 24-hours in the Caribbean sea, strengthening into a Category 2 storm on Tuesday morning, reported the National Hurricane Center.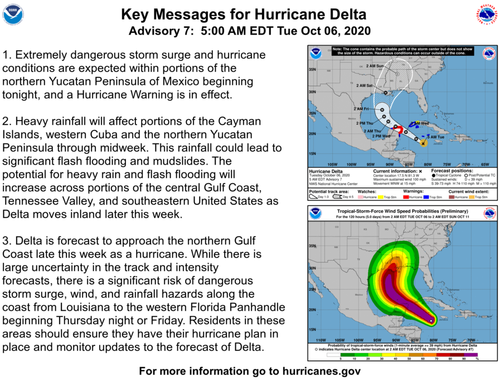 Delta has maximum sustained winds of 100 mph as it moves west-northwest at 15 mph. Around 0500 ET, the storm was 420 miles east-southeast of Cozumel, Mexico.
Hurricane #Delta Advisory 7: Delta Rapidly Intensifies Into a Category 2 Hurricane. Extremely Dangerous Hurricane Conditions Expected For The Northeastern Yucatan Peninsula Starting Early Wednesday. https://t.co/VqHn0u1vgc

— National Hurricane Center (@NHC_Atlantic) October 6, 2020
"Winds in Delta increased by 65 mph in the 24 hours ending 5 a.m. EDT Tuesday. That easily meets the criteria for the rapid intensification of a tropical cyclone, which is a wind speed increase of at least 35 mph in 24 hours or less," The Weather Channel said. 
Sam Lillo, an NOAA scientist based in Boulder, Colorado, said Delta's quick intensification resulted from ocean heat in the tropical Atlantic basin, low wind shear, and an abundance of moist air.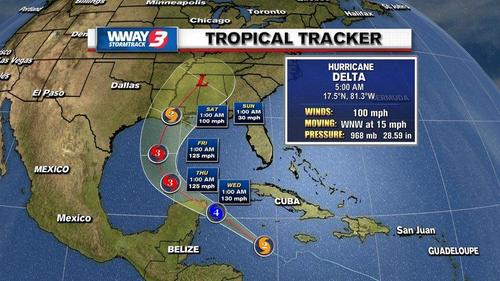 Hurricane warnings have been posted from Tulum to Dzilam, Mexico, and areas across Cancún and Cozumel. Hurricane conditions are expected in this area by Wednesday morning, with conditions deteriorating by Tuesday evening. Tropical storm warnings have been issued for the Cayman Islands and western Cuba, where storm conditions could arrive as early as Tuesday.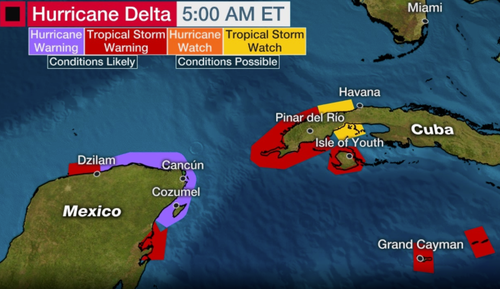 As Delta passes Mexico's Yucatan Peninsula, it may continue strengthening and become a major hurricane, at least a Category 3, before turning northward toward the U.S. Gulf Coast on Thursday. By late Friday, the storm is expected to make landfall between the Louisiana-Texas border and the Florida Panhandle, though exact timing and landfall location remain uncertain.