---
Investors Panic Into Platinum ETFs As South African Power Crisis Threatens Global Supply
Worsening power blackouts in South Africa are putting global platinum production at risk. As a result, investors are plowing money into platinum exchange-traded funds in response to increasing concerns about tightening supply this year. 
Outages last year in Africa's most-developed economy curbed the output of platinum, and the power crisis is worsening. According to platinum producer Impala Platinum Holdings Ltd., the production of the rare earth metal used in catalytic converters, electrical contacts, jewelry, pacemakers, drugs, and magnets, is expected to slide this year. 
Bloomberg data showed holdings in ETFs backed by the metal soared more than 117,000 ounces last week, the most significant weekly increase since March 2019. 
The ETF inflows coincide with a 23.5% rise in spot platinum prices since bottoming around $913 per ounce in late February.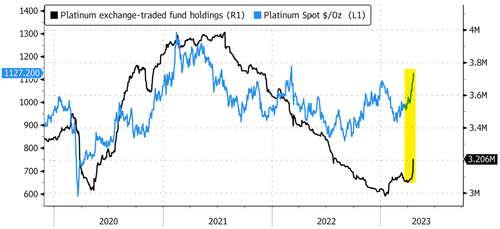 According to Bloomberg, most inflows were to the 1nvest Platinum ETF, a South African investment vehicle. A person familiar with the situation said local fund managers are making bullish bets on the metal. 
South Africa's state electricity utility Eskom Holdings recently warned major mining companies they might have to curb mining output due to the power crisis.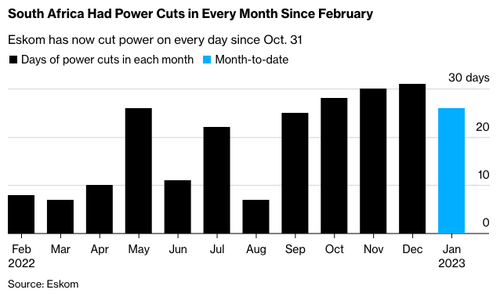 "If things don't get better soon then we are likely to have a worse period this year than last," Impala spokesman Johan Theron told Bloomberg earlier this year. He said, "If it gets worse it will get to a point when you have certain days where we will stop sending people underground."
Remember that South Africa is responsible for mining approximately 70% of the world's platinum supply.
Loading...