---
It's Not The 1970s, It's Worse: This Is The Strongest Recovery In Commodity Prices On Record
As first discussed last June in "Will ESG Trigger Energy Hyperinflation" and again today "Woke Capital Won't Save the Planet – But It Will Crash the Economy", the "green"/ESG shift in politician thinking has unleashed an epic surge in commodity prices, which are propelling inflation higher and will likely force central banks to keep tightening until they trigger a recession and/or a market crash (probably both).
Unfortunately, as Deutsche Bank's Jim Reid writes in his chart of the day, given the start seen in 2022, there is no simply solution to what has been a broad-based social shift toward environmental "virtue signaling" and commodity prices will continue to cause increasing headaches for policy makers.
As Reid notes, while these things can turn on a dime "there is no evidence that commodity prices are mean reverting as policy makers hoped in 2022 and are likely to continue to show strong YoY gains for some time to come even if they flatline from here."
So as today's Chart of the Day from the Deutsche Bank strategist shows, of the 20 US economic cycles since 1914, this is the strongest recovery in commodity prices on record at this stage: it eclipses the two 1970s cycles largely due to the spikes back then occurring beyond year three of the 1970- and 1975- expansions (and also has a broader commodity composition beyond energy). In other words, this is not your grandparents' 1970s inflation shock: it is way worse (for now).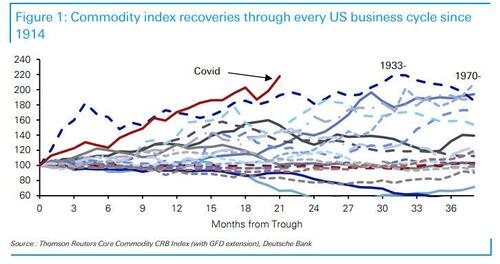 Meanwhile, as noted earlier, today's Euro Area flash CPI at 5.1% YoY (vs initial expectations at 4.4%) wasn't just a commodity story as core was up too.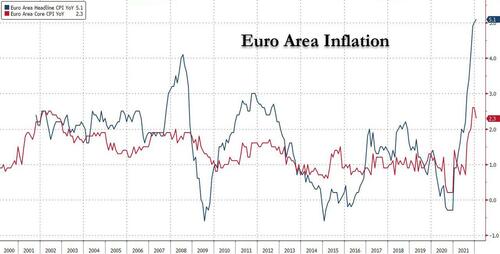 The danger, according to Reid, is that the longer commodity prices remain elevated the more second round effects kick in and expectations build.
Surely, inflation will be the biggest theme at tomorrow's ECB meeting, where Deutsche Banker says to expect a challenging press conference as the ECB is unlikely to change much as this is a non-forecast meeting. As a reminder DB expect lift off in December 2022 as one of four hikes over the subsequent year and a 1% terminal rate (more in our full ECB preview due out shortly).