---
Mad Cow Disease Detected In Brazil, Forces Beef Trade With China To Halt
Brazil, the world's biggest beef exporter, suspended beef shipments to China as a case of bovine spongiform encephalopathy (mad cow disease) was detected, according to Bloomberg, citing the country's agriculture and livestock ministry. 
Brazil's Minister for Agriculture, Carlos Favaro, said the animal illness known as mad cow disease was found on a small farm in the northern state of Para. 
"All measures are being taken immediately at each stage of the investigation and the matter is being handled with total transparency to guarantee Brazilian and global consumers the recognized quality of our meat," Favaro said. 
Favaro said the World Organization for Animal Health had been notified. Samples of the infected animal were sent to the organization's reference laboratory in Canada to determine if the case was "atypical."
Atypical occurs in older cattle. It's deemed low-risk and naturally occurring compared with other forms of the disease. 
"The symptomatology indicates that it is the atypical form of the disease, which appears spontaneously in nature, causing no risk of dissemination to the herd and to humans," Para's agricultural defense agency said in a statement.
As a precaution, Brazilian authorities halted beef shipments to China. Favaro said the move would be short-term and that "dialogue with the authorities is being intensified to demonstrate all the information and the prompt re-establishment of the Brazilian meat trade."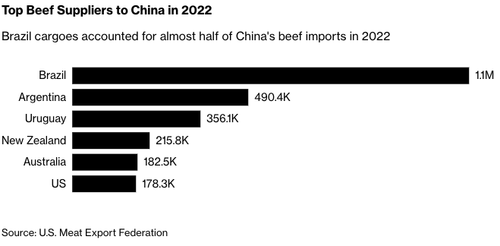 In 2021, a similar trade suspension occurred when two cases of mad cow disease were found in Brazil. Hyberville Neto, director at HN Agro consultancy, expected the export ban to be shorter than the one a few years ago. 
If the ban is in place long enough, Chinese importers might start sourcing beef products elsewhere, such as in Australia, Japan, and Korea.
Loading...