---
Major European Trucking Firm Hit With Fuel Shortage After Ukraine Invasion
Europe's already strained diesel market came under even more pressure as the Russian invasion of Ukraine has disrupted energy markets over the last two weeks. Now one of Europe's leading logistics companies warns about fuel shortages. 
Lithuania-based Girteka Logistics, Europe's largest trucking company by ownership, announced it had "experienced some fuel shortages in Poland," according to Bloomberg. 
Poland has introduced several limitations, including 500 liters (132 gallons) per refill. This comes after oil refiners, regulators, and industry groups in the country reported people have been panic hoarding fuel since the Ukrainian invasion. Poland shares the 530km (330-mile) border with Ukraine.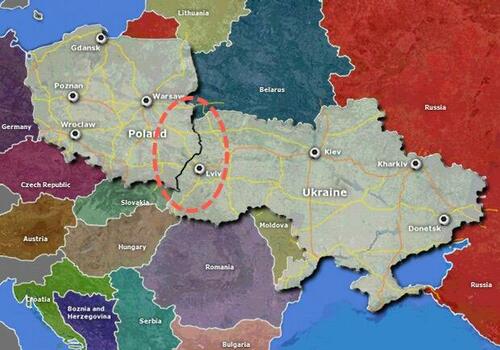 Girteka Logistics said fuel shortages appear to be localized to Poland and haven't spread across Europe. "We see more differentiation between pump prices in different countries and many trucking companies try to benefit from fuel at lower-cost countries," the trucking firm said. It added, "cost pressure was already heavy due to growing costs of new trucks." The Ukraine conflict appears to have put additional pressure on the logistics company.
Outlining Girteka Logistics' nightmare of emerging fuel shortages is a futures curve signaling extremely tight supplies on the continent. 
Traders are willing to pay as much as $142 a ton more to procure the fuel this month rather than waiting until April. That's the biggest premium of its kind in data going back to early 2008. In barrel-equivalent terms, the March contract is trading at over $195 -- also an all-time high. - Bloomberg 

There are increasing signs fuel markets are tightening in Poland and spreading across the continent. OMV AG reported Tuesday it would limit the supply of heating oil and diesel from its Burghausen refinery in Germany due to tight supplies. 
The move comes a day after Shell Plc slashed how much Russian crude it processes. This will make fuel availability worse. 
So only two weeks after Russia invaded Ukraine, Europe's energy security is already breaking down. Maybe EU leaders should rethink their energy policies and give up (temporarily) on going green. They should restart coal and nuclear power plants to survive the energy crisis.