---
Hurricane Delta To Strike Gulf Coast Friday 
Update: (1840 ET): The National Hurricane Center's latest Hurricane Delta update states the storm is now over the Gulf of Mexico off Mexico's Yucatan Peninsula.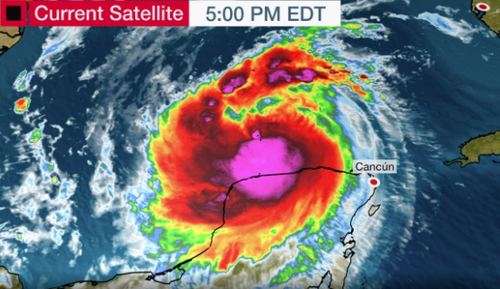 Delta is set to intensify Thursday as it approaches the northern Gulf Coast. Hurricane watches have been posted along the US Gulf Coast, in areas where landfall is expected on Friday evening.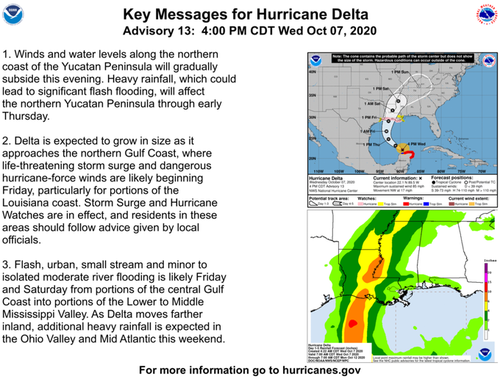 Delta is expected to grow in size as it approaches the northern Gulf Coast, where there is an increasing likelihood of life-threatening storm surge and dangerous hurricane-force winds beginning Friday, particularly for portions of the Louisiana coast," NHC warned.
Hurricane watches have been posted for High Island, Texas, to Grand Isle, Louisiana, and continues inland to include Lake Charles and Lafayette, Louisiana, as well as Beaumont and Port Arthur, Texas, reported The Weather Channel. 
Track Map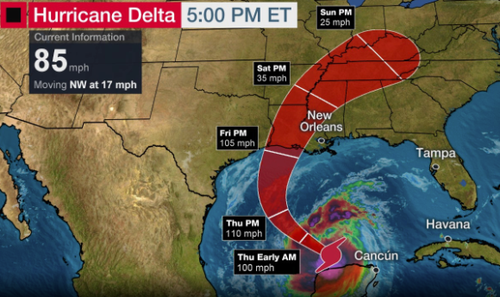 Storm Surge Map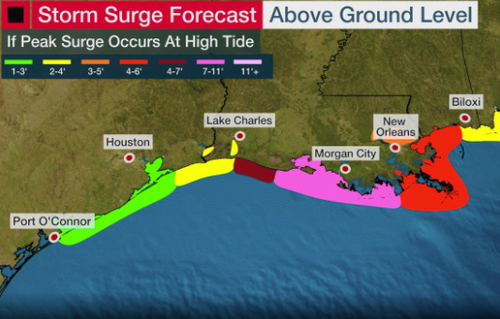 Tropical Storm Force Wind Probabilities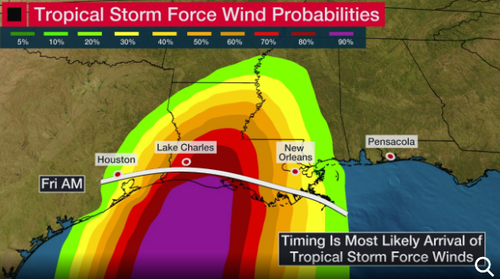 Rainfall Potential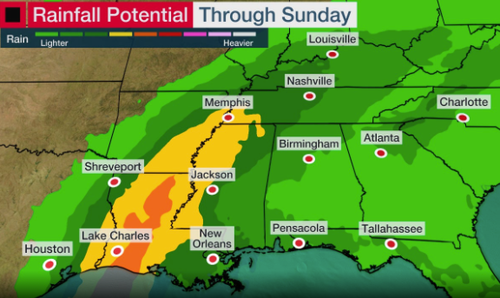 Louisiana Gov. John Bel Edwards said Tuesday, "this storm will affect Louisiana and everyone needs to prepare accordingly." 
Edwards said Delta could make landfall along his state's coast Friday night or Saturday morning. He declared a state of emergency Tuesday and has requested President Trump to issue a pre-landfall disaster declaration. 
On Wednesday afternoon, Trump tweeted that he "spoke with @GovAbbott of Texas and @LouisianaGov John Bel Edwards." He said he's working with both governors to prepare the states for the weather event later this week. 
Was just briefed on Hurricane Delta, and spoke with @GovAbbott of Texas and @LouisianaGov John Bel Edwards. Please heed the directions of your State and Local Officials. We are working with them very closely — please be prepared, be careful, and be safe! https://t.co/hi01bnNV6M

— Donald J. Trump (@realDonaldTrump) October 7, 2020
As Delta is expected to regain strength on Thursday, the storm's developments should be monitored as the exact landfall location has yet to be determined. Meteorologists should have more visibility regarding the storm's expected path by tomorrow morning. 
*  *  *
Update (0707 ET): The National Hurricane Center reports Hurricane Delta has made landfall near Puerto Morelos, a Mexican port town on the Caribbean coast of the Yucatan Peninsula, as a Category 2 storm.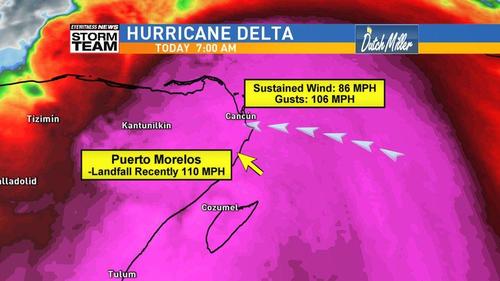 *  *  *
The National Hurricane Center's 5 a.m. tropical advisory update shows Hurricane Delta was located about 35-miles east-northeast of Cozumel, Mexico, with maximum sustained winds of 115 mph, making it a Category 3 storm. Delta was downgraded in the overnight hours from Category 4 to 3.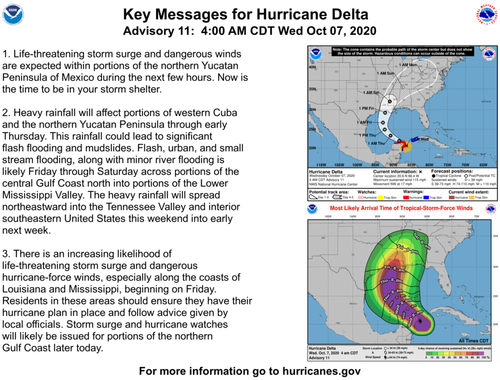 Delta is moving northwest at 17 mph, expected to make landfall over the northeastern portion of the Yucatan peninsula Wednesday morning. The storm will then traverse the southern Gulf of Mexico and curl towards the US Gulf Coast by late week. 
This morning, menacing Delta is unleashing havoc on Mexico's Yucatan Peninsula, where an abundance of hotels and resorts reside in the Tulum and Cozumel areas. More than 40,000 tourists have hunkered down in emergency shelters ahead of landfall as authorities prepare for landfall. Delta is one of the strongest hurricanes to hit the resort area in years. The storm's arrival is some of the worst timing, comes as Mexico attempts to revive its collapsed tourism industry following the virus pandemic shutdowns. 
Early this week, we noted that Delta rapidly intensified from sustained winds of 40 mph Monday to a Category 4 on Tuesday with winds around 130 mph. Suppose the storm strengthens again, back to a Category 4, between Thursday and Friday, then it could make US landfall as a major hurricane.  
Current predictions for a potential US landfall show the storm could strike the Louisiana coast late Friday or early Saturday morning.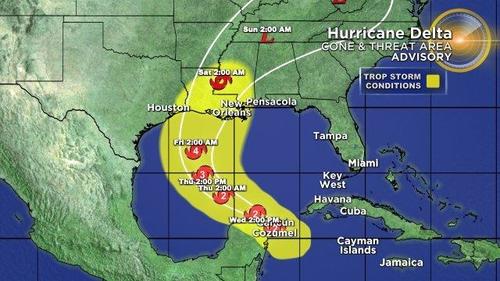 Louisiana Gov. John Bel Edwards said Tuesday, "this storm will affect Louisiana and everyone needs to prepare accordingly."
The oil and gas industry, with offshore production platforms along US Gulf Coast states, is taking no risk ahead of the storm's potential US landfall later this week or early weekend, has started shutting down rigs and withdrawing workers. 
"Oil producers had evacuated 57 production facilities in the U.S. Gulf of Mexico by Tuesday and halted 540,000 barrels per day of oil and 232 million cubic feet per day of natural gas production. The region accounts for about 17% of U.S. oil output." Reuters notes. 
Meteorologist Philip Klotzbach notes the super active 2020 Atlantic hurricane season has already tied a century-old record: 
"The 2020 Atlantic hurricane season is currently tied with the 1916 Atlantic hurricane season," Klotzbach tweeted, "for most continental US named storm landfalls in a season on record (9 landfalls)."
With a little more than a month and a half left in hurricane season, more storm activity could be ahead, given La Nina conditions.