---
Nat Gas Futures Surge As New Forecasts Suggest Colder Weather Nears
Nat gas futures are up more than 3% Monday morning, hitting a one-week high, following new weather models that suggest higher heating demand for the end of December, according to Reuters.  
Nat gas futures are up 3.32% to $2.68 per million British thermal units at around 10:00 ET.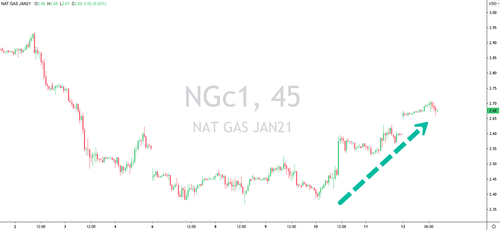 "Natural Gas futures are higher mainly due to supportive weather model runs which indicate a shift towards colder temperatures for the end of December," said Robert DiDona of Energy Ventures Analysis.
"Chances of a big snowstorm that could impact the Mid-Atlantic and Northeastern portions of the country around mid-week were also supporting prices," DiDona added.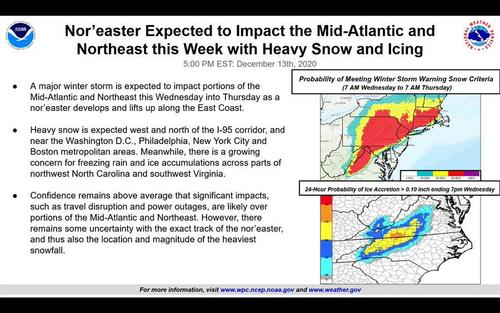 Data provider Refinitiv predicted heating degree days (HDDs) would rise through late December into next month.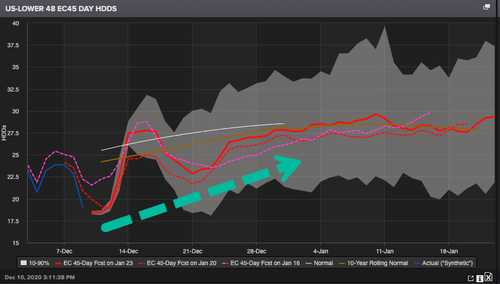 The view of colder weather was much different last week when the spread between March and April nat gas futures collapsed to zero, which, at the time, was an indication that North American winter was going to be mild.
Earlier this month, the plunge in nat gas futures was due to weather models suggesting "December could end top 3 warmest all time." 
Now with the drastic shift in models, colder weather could be arriving as soon as the end of the month, something that would undoubtedly lead tens of millions of Americans to turn up their thermostats, thus increasing energy demand, to stay warm.