---
Nicaragua Braces For Arrival Of Powerful Hurricane Eta 
Category 4 Hurricane Eta has rapidly strengthened in the Caribbean Sea as it approaches Nicaragua on Tuesday morning with winds upwards of 145 mph. 
Here's is a look at Category 4 Hurricane Eta approaching the coast of Nicaragua this morning. Life-threatening storm surge, catastrophic winds, and flash flooding are expected across portions of Central America. pic.twitter.com/soBR7JYdlj

— NWS Austin/San Antonio (@NWSSanAntonio) November 3, 2020
The National Hurricane Center (NHC) is calling Eta "extremely dangerous" as it nears northern Nicaragua and the Honduras coastline. The storm is expected to bring "life-threatening storm surge, catastrophic winds, flash flooding, and landslides" to central America. Some areas could expect 35 inches of rain this week. 
As of 0700 ET, NHC said Eta had maximum sustained winds of 145 mph and is traveling west-southwest at around four mph.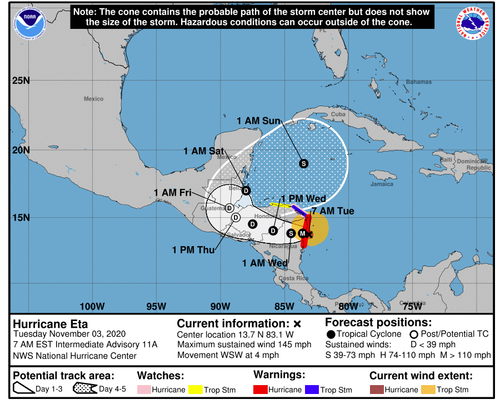 "Eta is an extremely severe hurricane, capable of causing very high storm surges and catastrophic damage," the hurricane center warned.
After today's landfall, the hurricane will weaken as it moves inland over northern Nicaragua through Wednesday morning and then crosses Honduras by Thursday. The official forecast map shows the system could move back into the Caribbean by Saturday and strengthen into a tropical storm on Sunday. 
"It is not certain that the surface circulation will survive after moving over Central America for the next three days or so," NHC said." The official forecast shows the system, perhaps at first the upper-level remnant of Eta, emerging over the northwestern Caribbean Sea in the latter part of the forecast period. It should be noted that both the intensity and track at 4-5 days are highly uncertain at this time." 
Here's our past reporting on Eta:
Eta has become an impressive November hurricane for so late in the Atlantic hurricane season. It has become the 28th named storm, tying the 2005 record for most named storms in a single season.