---
Nickel Halted After Historic 250% Surge Costing Chinese Tycoon Billions In Margin Losses
Commodity trading houses and hedging producers are being forced out of their short nickel bets adding to an unprecedented short squeeze that had sent prices on the London Metal Exchange (LME) up as much as 250% in two trading days above $100k per ton, before the exchange issued an unprecedented trading suspension on Tuesday morning.
The parabolic price move began shortly after the Biden administration considered banning Russian crude imports helped spark a massive squeeze in commodity markets on Monday, especially in oil, gas, nickel, aluminum, palladium, and wheat. All hit multi-year highs or new record highs, according to Bloomberg.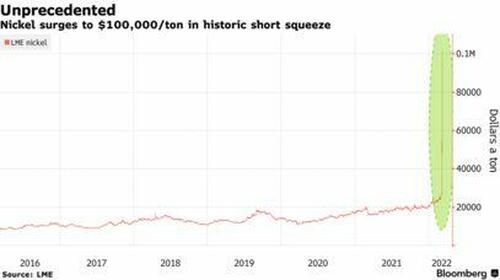 As reported earlier, the monster squeeze has forced anyone holding a short nickel position on the LME to post additional collateral to pay margin calls or close out positions.  As a reminder, traders, miners, and processors generally use short positions in derivatives to hedge against volatility on long-term contracts or physical inventories. Some use it purely for leverage purposes on directional bets. 
And as we first noted last night, one of the latest confirmed causalities is Chinese entrepreneur Xiang Guangda - known as "Big Shot" - who amassed a massive short position in nickel futures now faces billions of dollars in mark-to-market losses after the metal's parabolic, Bloomberg also reported separately. 
Guangda, who controls the world's largest nickel producer, Tsingshan Holding Group, has closed out some of his company's short position and might be forced to close out the entire position. It wasn't clear what Guangda's losses were but could reportedly be more than $2 billion. 
Meanwhile, the short covering chaos on the LME prompted the exchange to suspend nickel trading on Tuesday. Margins calls were calculated for the present time based on Monday's closing price of $48k. Some traders say this reminds them of the 1985 "Tin Crisis," which saw the exchange suspend tin trading for four years as many brokers were forced out of business. 
"This is second only to the tin crisis," said Malcolm Freeman, a broker at Kingdom Futures who began trading on the LME in 1974.
"This was the right thing to do, and my gut feeling is that they'll probably look at canceling today's trades too," Freeman said. 
Adding to the confusion, the London Metal Exchange said it would cancel all trades executed on or after midnight UK time Tuesday in physically settled nickel contracts in the inter-office market and on LMEselect, it says in an emailed notice.
The Exchange will also defer delivery of all physically settled nickel contracts due for delivery from March 9 due to trading suspension
LME says latest notice is intended to address most pressing issues following "unprecedented" events, and further communications will be issued during the course of today, including regarding the process for reopening the market. "The LME is committed to working with market participants to ensure the continued orderly functioning of the market"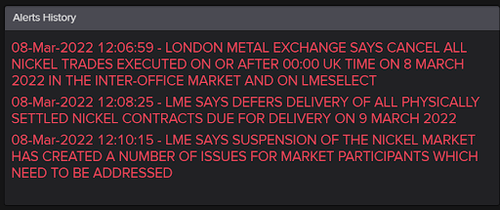 And so, the first causality of the great nickel squeeze emerges, and others are likely to be announced in the days or weeks ahead. 
Loading...