---
OJ's Historic Price Squeeze Fades With Improving Supply Outlook
A fresh look at orange juice futures this morning reveals the first slump in nearly two weeks after tightening supply sent prices to record highs. At least one ag analyst believes prices could soon top out because of increasing imports to supplement the loss of supply in Florida. 
OJ futures fell 10 cents or 3.8% to $2.5255 a pound.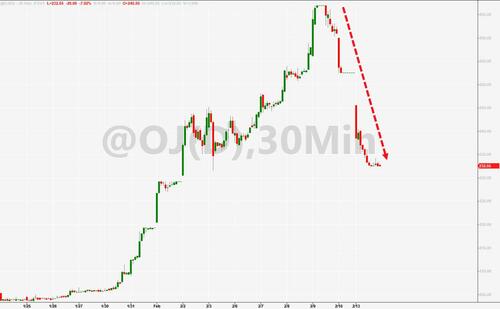 The decline was the maximum daily limit allowed by ICE Futures US. In the last two weeks, OJ futs soared as much as 30% to a new record high of $2.6695 per pound. Since last Thursday, prices have slid 10%. 
We explained last month that the commodity soared to new heights on a USDA report about Florida's dwindling citrus production. The Sunshine State could be looking at the smallest orange harvest since 1945. This is due to "greening disease" and hurricane damage in the state's citrus groves.
But there is good news for breakfast lovers: Plunging US output, especially in Florida, has forced companies to ramp up imports of oranges from abroad. 
Chicago-based Price Futures Group Inc.'s vice president Jack Scoville told Bloomberg the rally and "the limit down move today makes one think it could finally be topping out." 
An industry report via Fundecitrus showed US imports of orange juice nearly doubled in December, supported by a considerable increase in shipments from Brazil. And the good news is that the Brazilian production in the 2022-23 season has been revised up 0.7% and is now seen as 20% up from the prior season. 
So what's happening right now to compensate for the slide in Florida's orange production are importers are boosting imports from South America. As soon as new supply comes online, this might alleviate domestic US supply constraints and eventually allow supermarket prices to subside. 
This is great news for breakfast lovers. Other great news is that ag firm Urner Barry recently said wholesale egg prices have "collapsed."
Loading...