---
OPEC Output Drops As Saudi Production Falls By 156,000 Bpd
By Josh Owens of Oilprice.com
Crude oil production from all 13 OPEC members slid by 49,000 barrels per day (bpd) in January from December as top producer Saudi Arabia slashed output by 156,000 bpd, OPEC's latest Monthly Oil Market Report (MOMR) showed on Tuesday.   
OPEC's crude oil production in January fell by 49,000 bpd from December to average 28.88 million bpd, according to secondary sources in OPEC's report.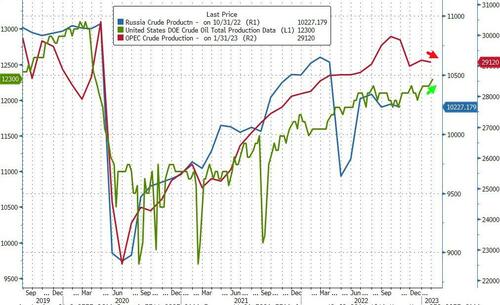 Saudi Arabia, the biggest producer and de facto leader of the cartel, pumped 10.319 million bpd in January, down by 156,000 bpd month on month, and more than 100,000 bpd below its quota of 10.478 million bpd as part of the OPEC+ agreement, set out at the October meeting and valid from November 2022 through December 2023, or until OPEC+ decides otherwise. 
A Bloomberg survey found earlier this month that OPEC's crude oil production fell in January due to cuts by Saudi Arabia which may have been steeper than the Kingdom's quota. 
Saudi Arabia, however, self-reported to OPEC that its crude oil production averaged 10.453 million bpd in January, up by 17,000 bpd from December. 
According to OPEC's secondary sources, Nigeria and Angola boosted their production the most, by 65,000 bpd and 47,000 bpd, respectively. But these producers are among the biggest laggards in their OPEC+ targets—they continue to pump well below their quotas. 
The monthly Reuters survey pegged OPEC's January production nearly in line with the OPEC figures from secondary sources reported today—production at 28.87 million bpd, down by 50,000 bpd from December. 
The 10 OPEC members that are part of the OPEC+ collective target production were estimated to have produced around 920,000 bpd below the January target, per the Reuters survey. 
Going forward, OPEC and OPEC+ don't plan to change the course in oil production targets after Russia announced last week a 500,000 bpd cut in its output for March. 
Loading...