---
Orange Juice Futures Hit New Record High Amid Supply Squeeze
OJ futures have hit a new high, surging 10 cents or 4.56% to $2.292/lb, surpassing the 2016 record of $2.2585, due to limited supply.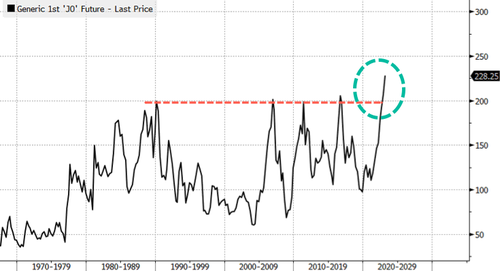 The USDA predicts Florida's citrus production will reach 44.5 million boxes this year, which could result in the state's smallest orange harvest since 1945. This is due to "greening disease" and hurricane damage in Florida's citrus groves.
Recall we have closely followed the squeeze in supplies:
The domestic shortage has led domestic companies to seek out new supplies in Mexico and Brazil. WSJ reported a gallon of orange juice has risen above $6 in some US supermarkets.
Besides orange juice, egg prices are also soaring. People aren't thrilled about rapid food inflation. 
I almost put the Orange Juice back at Walmart today. These prices are out of hand. #DoBestByEveryBody #Inflation

— Darryl R Ware II (@DarrylRWareII) January 31, 2023
It's 5.00 for orange juice, 3.50 for eggs. Let's focus on the important issues, not the fantasy that America will be "all electric" anywhere in our lifetimes. But good job on other stuff you're doing. Keep up the support for Ukraine and reducing gas prices.

— Corey (@elbrynncanticle) January 30, 2023
Maybe is a Republican strategy to put you down let's say there is around 10 people dead at day because weapons rights
prices of food eggs $10:00
Bread $6:00
Coffee cream $9:00
Milk $$7:00
Frozen orange juice $ $8:00
Please we don't want to mention the prince of chicken,fish,Beef

— ALICIA M Blay Casal Franco Rivero (@ALICIAMBlayCas1) January 29, 2023
Loading...