---
Plunging Aerospace And EV Demand Sends Cobalt Prices Tumbling 
Cobalt prices slumped to a 10-month low this week due to waning demand from the aerospace and electric vehicle industries - all suggest the V-shaped recovery in the global economy is nothing but a distant dream. 
Airlines are slashing orders for Airbus and Boeing passenger planes as the travel and tourism industry has collapsed. In response, carriers have had to quickly reduce operating capacity by ground fleets of planes until passenger volumes recover. 
Boeing CEO Dave Calhoun recently warned it could take 2-3 years for air travel growth to return to pre-corona levels, adding that long term growth trends could take much longer. 
With reduced flights and declining orders for new planes, demand for cobalt used in jet turbine blades is expected to slump in the back half of the year. 
"The harsh high temperature and pressure environments of the jet engine necessitates regular replacement of turbine blades," CRU analyst George Heppel told Reuters. "But planes are grounded, turbine blades aren't being used and don't need replacing."
Heppel estimates cobalt demand for the aerospace parts industry will be around 4,442 tonnes this year, a drop of 18% from 2019 and the lowest since 2011. He forecasts a 6,300-tonne surplus this year and global consumption around 131,800 tonnes.
The average spot price of cobalt in the U.S. stood at $15.13, down about 15% since January, hitting lows not seen in ten months. Below are global cobalt prices, prices slumped 4-5 months before the pandemic.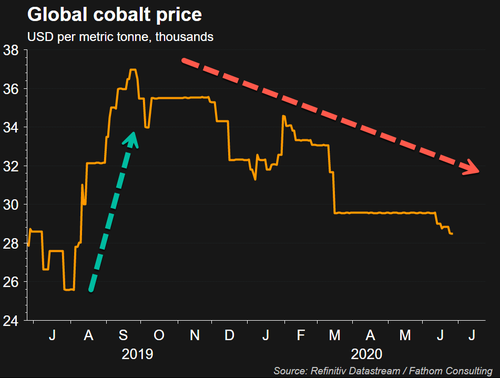 "The pandemic has affected demand and supply. Cobalt mined from (the Democratic Republic of) Congo is typically exported for refining through Durban in South Africa, where there was lockdown (to halt the spread of the new coronavirus), which created logistical disruptions," said Roskill analyst Ying Lu. 
Cobalt from the DRC is used in lithium-ion batteries for electric vehicles. Much of it is exported to China, which suggests lower spot prices are the result of declining electric vehicle sales. 
Weakened cobalt consumption tells us a lot about the global recovery - here's a hint - world stocks are mispricing the shape of the recovery, it ain't a "V" but more like a "U" or "L."