---
Robusta Coffee Prices Soar To New Record As El Niño Sparks Supply Fears
Vietnam and Indonesia, some of the top-producing coffee countries, are experiencing extreme weather that could worsen a shortage of robusta beans. This has pushed robusta coffee prices to a record high, making it more expensive for buyers to obtain cheap beans, Bloomberg reported. A confirmed El Niño ahead of a Northern Hemisphere summer could worsen the shortage and perhaps explain why prices are skyrocketing. 
Just weeks ago, "Robusta Prices Hit 12-Year High As El Niño Threat Sparks Shortage Fears," and fast forward to Friday, robusta bean prices per ton have jumped to $2,790, the highest since the contract started trading 15 years ago.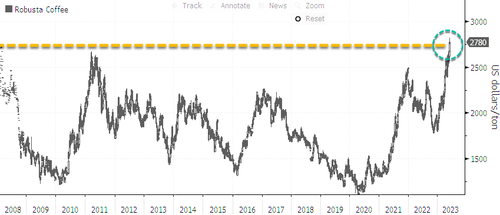 Due to dwindling supplies, prices have surged more than 50% since the start of the year. Also, the anticipated El Niño weather pattern, which is now confirmed, has supported prices. El Niño means hotter, drier conditions for top suppliers Vietnam and Indonesia that will crimp yields. 
Bloomberg explains robusta demand has been increasing:
The switch was first observed among roasters who increased the amount of robusta used in commercial blends to offset higher arabica costs and energy bills. Then, double-digit inflation in many parts of the world saw grocery bills surge to the highest in decades, forcing some consumers to trade down to cheaper options.
And then warned:
As roasters increase the amount of robusta in their coffee blends, growers struggle to keep pace. A combination of higher fertilizer costs and drought has slashed crop yields. That's set to keep the global coffee market in a deficit for a third straight season in 2023-24.
As we started to see El Niño probabilities increase in April, we informed readers, "El Nino Watch Initiated As Ag-Industry In Crosshairs."
And on earnings calls, the number of corporate executives discussing weather-related impacts has surged to multi-year highs.
The global economic impact of El Niño could be in the trillions of dollars over the next several years. It appears the ag space is seeing the brunt of the first impacts. 
So, what does this mean for consumers when they go to the supermarket? Well, brace yourselves because the rise in food prices is far from over. In particular, coffee prices are set to rise even more, making that morning cup of joe even more costly. The good news: egg prices have collapsed. 
Loading...