---
Robusta Prices Hit 12-Year High As El Niño Threat Sparks Shortage Fears 
Vietnam and Indonesia are experiencing extreme weather that could affect coffee production. This has pushed robusta coffee prices to more than decade highs. An emerging El Nino ahead of a Northern Hemisphere summer could worsen coffee production at the end of the Northern Hemisphere growing season later this year. 
Over the last few months, we've followed the emerging El Nino weather pattern. We've noted the following:
Bloomberg said: 
An emerging El Niño weather pattern will curb output from top supplier Vietnam, bringing hotter, drier conditions later this year. Indonesia, the No. 3 producer, had its crops harmed by excessive rainfall, with the US Department of Agriculture forecasting an 18% decline in output for the new season that started in April. That prospect pushed up prices again on Monday with crops in another key grower Brazil already hurt by drought.
As a result of adverse weather conditions in top-producing robusta growing countries, prices of the coffee bean have soared to 12-year highs.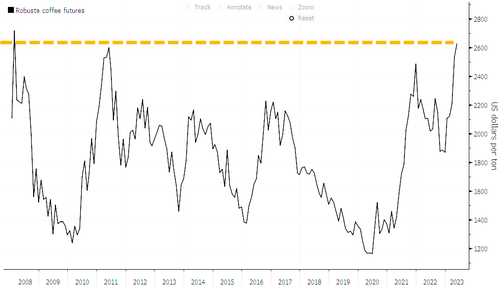 Over the last year and a half, the cost-of-living squeeze has pushed more consumers to cheaper robusta beans versus high-quality arabica beans.
"There's been so much of a demand shift away from higher-priced coffee that even the market isn't even being satisfied by higher robusta exports," said Judith Ganes, who runs a commodities firm in New York.
For coffee drinkers, the low-cost robusta bean is set to become even more expensive as a shortage worsens this summer. There doesn't seem to be an immediate end to breakfast inflation. 
Loading...