---
Rolling Blackouts Expected Today For 3.3 Million California Households
Update (17:47ET): CNN's Jon Passantino quoted California's top electricity manger as saying upwards of "3.3 million California households could lose power during rolling blackouts later today amid a record-setting heatwave." 
*  *  *
Update (16:20ET): California's top electricity manger warned Monday afternoon the state doesn't have enough energy to meet demand and will likely result in rolling blackouts for customers. 
Steve Berberich, the chief executive of the California Independent System Operator (California ISO), told ISO's board that energy demand is exceeding supply and could result in "millions" of Californians without power on Monday and Tuesday. 
John Phipps, ISO's director of real-time operation, told The Sacramento Bee that rolling blackouts could last for six hours. 
Berberich said the state remains paralyzed with much of energy production coming from solar and renewable energy sources, which is not enough to cover demand in the evening as solar power diminishes. 
The heatwave has forced customers to turn down thermostats, resulting in almost near-record electricity demand of around 49 gigawatts from California ISO.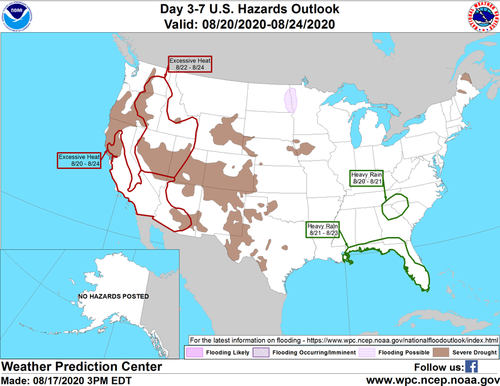 Two million customers had their power cut on Friday and another 352,000 on Saturday as demand surged with temperatures in some parts of the state reaching triple digits. Electricity demand on Tuesday could be as much as 50 gigawatts, a level not seen since 2006.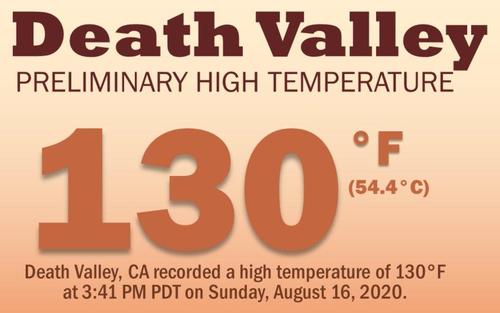 Western cooling degree day, the measurement designed to quantify how much energy it takes to cool a structure, appears to peak early this week and start a multi-week decline.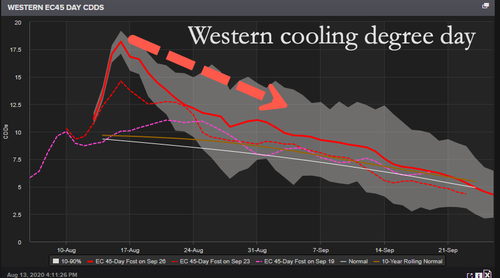 *  *  *
Californians flocked to beaches, recreation areas, and lakes this past weekend to seek relief from one of the most extreme heat waves in a generation, straining the state's power grid to the brink of collapse, reported Bloomberg. 
The heatwave brought triple-digit temperatures to parts of California over the last three days and sparked concerns of fiery tornados on Saturday.   
On Sunday, the National Weather Service's (NWS) Weather Prediction Center (WPC) tweeted temperatures from Death Valley, a desert valley in Eastern California, in the northern Mojave Desert, reached 130F, the first time since 1913.
Per the climate data in xmACIS2, this is the first time since 1913 that Death Valley has reached 130F. In July 2013, it last reached 129F. If valid, it would be the hottest August temperature at the site by 3F. @NWSVegas pic.twitter.com/gZNBW4NXI4

— NWS WPC (@NWSWPC) August 16, 2020
Scorching temperatures were so intense, the state's electrical grid warned of a continuous electricity supply shortage for Sunday into Monday and Tuesday. 
California Independent System Operator (California ISO) had purchased additional power to prevent another rolling blackout and issued a Flex Alert, urging customers to reduce energy in the afternoons. 
Severin Borenstein, a board member of the ISO and energy economist at the University of California, Berkeley, told SFGate that rolling outages are expected to continue early this week: 
"There is a real concern that they would have to do it again tomorrow and Tuesday," he said Sunday about the rolling outages.
We noted Saturday that rolling blackouts started Friday when the state's power reserves had fallen below a critical threshold due to elevated temperatures increased demand for power. The grid issued a "Stage 3 Grid Emergency," which triggered the "load interruption."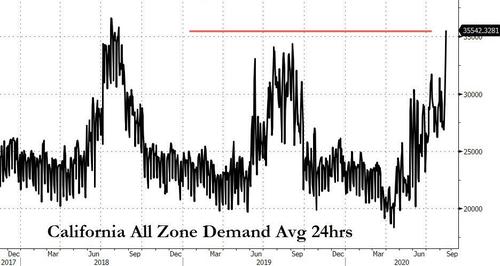 According to ABC News, this is the first round of "Stage 3" blackouts facing the state since the 2000-2001 energy crisis that forced the state's largest utility - PG&E - into bankruptcy and led to the ouster of former Gov Gray Davis.
The blistering heat was also a major concern for firefighters battling several wildfires in Northern California. 
Wendell Hohmann, an NWS forecaster, said a large, fast-moving wildfire in the Sierra area resulted in the weather service to warn local residences about firey tornados. 
A fiery tornado in Northern California. A wildfire East of Loyalton has burned at least 20,000 acres in a record-setting heatwave.pic.twitter.com/qy1PsNn7rm

— Disclose.tv 🚨 (@disclosetv) August 16, 2020
Factor in energy blackouts, prolonged heatwave, and firey tornados, on top of a virus pandemic and socio-economic collapse, well the state is being pushed to the edge ahead of the presidential elections.