---
Russia Terminates Black Sea Grain Deal, Wheat Prices Spike, As Extent Of Crimea Bridge Terrorist Attack Revealed
Wheat prices jumped as news broke Monday that Russia let the UN-brokered grain deal lapse at midnight, Istanbul time, marking the end of the Turkey-administered humanitarian corridor which let Ukrainian grains get exported to global markets. Russia since confirmed the deal has been "terminated". According to the latest from Moscow, as well as the US reaction:
Russian U.N. Mission: No more talks planned on black sea grain deal, Russia's decision to withdraw is final — RIA

RUSSIA TELLS UN SHIPPING AGENCY IMO THAT END OF BLACK SEA GRAIN DEAL MEANS 'GUARANTEES FOR SAFETY OF NAVIGATION ISSUED BY RUSSIAN SIDE WILL BE REVOKED' - LETTER EXCERPT SEEN BY REUTERS

RUSSIA ALSO TELLS IMO THAT 'PROACTIVE NECESSARY ACTIONS AND RESPONSE MEASURES TO NEUTRALIZE THREATS POSED BY THE KIEV REGIME IN THE AREA WILL BE TAKEN' - LETTER EXCERPT SEEN BY REUTERS
U.S. ENVOY TO U.N. SAYS RUSSIA ENDING BLACK SEA GRAIN DEAL AN 'ACT OF CRUELTY'
What was formally called the Black Sea Grain Initiative had already been extended for multiple short increments since its implementation in July 2022. The Kremlin confirmed in a statement by Dmitry Peskov: "The Black Sea agreements ceased to be valid today. As the President of the Russian Federation said earlier, the deadline is July 17."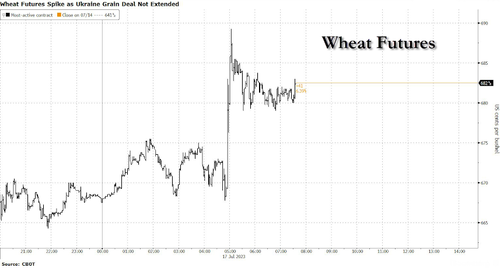 "Unfortunately, the part relating to Russia in this Black Sea agreement has not been implemented so far. Therefore, its effect is terminated," the presidential spokesman continued. Ultimately this will put much more pressure on Kiev, already in the midst of a failing counteroffensive, which is likely Russia's strategic purpose in suspending the deal.
But Peskov suggested it could be reimplemented if Russia's conditions for resumption are met, namely the country's ability to export its own foodstuffs safely, after Moscow has long voiced its objections, which has included blaming the Ukrainians for placing naval mines in the Black Sea corridor. 
"As soon as the Russian part is completed, the Russian side will return to the implementation of this deal immediately," Peskov said. He further described the agreement as having "been de facto stopped" - again suggesting the possibility of a speedy resumption following negotiations that would address Russia's concerns. 
Currently there's speculation that the fresh attack on the Crimean Bridge (also known as the Kerch Strait Bridge) was a last straw, but Moscow is downplaying the connection. The Washington Post writes Monday morning:
Ukraine's military and security services were responsible for the attack on a key bridge that connects the Crimean peninsula to the Russian region of Krasnodar, a Ukrainian official said Monday. Ukraine used sea surface drones to attack the bridge — an important supply artery for Russia's war in Ukraine — the official said, speaking on the condition of anonymity because of the sensitivity of military operations. On Monday, the Kremlin said the grain deal, which allowed Ukrainian grain to be shipped from Black Sea ports despite wartime hostilities, is "being terminated" until Russia's demands are met.
However, Peskov noted that Russia's willingness to pull out of the grain deal initiative was communicated prior to the attack, which reportedly killed two civilians and suspended bridge traffic. Russia has denounced the "terrorist attack". 
A family car is struck during the sea drones attack on the Crimea bridge. Parents tragically lost their lives, while doctors are fighting to save the child. The family was on their way to summer holidays. Ukraine media confirm Ukraine stands behind the attack… pic.twitter.com/JzO4sVFD4M

— Russian Market (@runews) July 17, 2023
The White House reaction has been to say that Moscow has been using the grain deal as "a weapon" - as stated by Secretary of State Antony Blinken. Putin for his part has complained that food exports have not been going to countries which are most in need, in Africa and the Middle East, but instead to Kiev's preferred Western partners in Europe who are busy supplying battlefield arms.
China reacted later in the day Monday...
#FMsays China hopes the Black Sea Grain Deal will continue to be implemented in a balanced, full and effective manner, Foreign Ministry spokeswoman Mao Ning said, as the deal is set to expire on Monday. pic.twitter.com/IbswHAlR7x

— China Daily (@ChinaDaily) July 17, 2023
Moscow has the two killed in the overnight Crimea Bridge attack involved a Russian family traveling on vacation whose vehicle was destroyed. A statement further alleged assistance to Ukrainian forces by the US and UK.
"This regime [the Ukrainian government] is terrorist and has all the hallmarks of an international organized crime group," foreign ministry spokeswoman Maria Zakharova said in a written statement. "Ukrainian officials and military personnel take those decisions with direct input from American and British special services and politicians. The US and Britain are managing a state-like terrorist structure," it said.
Loading...