---
Diamond Prices Are Crashing, Forcing Russian Mining Giant To Halt Sales
A surge in lab-grown diamonds flooding the market, coupled with a decline in luxury spending, has forced Russian mining giant Alrosa PJSC to temporarily suspend rough diamond sales to prevent prices from crashing further. 
Bloomberg obtained a memo from Alrosa addressed to its customers, explaining rough diamond sales for September and October have been suspended as the company "strives to reverse the existing trend of diminishing demand." 
Diamonds, watches, and other jewelry soared during the pandemic and peaked in the first half of 2022. We have covered the Rolex boom and bust extensively and have turned our attention to crashing diamond prices in 2023:
Besides the luxury spending slowdown due to tapped-out consumers, man-made diamonds have been all the rage because these gems are only a fraction of the cost. The big fear of the natural diamond industry is starting to be realized as consumers accept lab-grown diamonds in rings. 
Edahn Golan, an independent diamond industry analyst, told CNN Business consumers are flocking to man-made diamonds because the most popular one-carat round man-made diamond for an engagement ring in March was $2,318. He said that's 73% cheaper than a natural diamond of the same size, cut, and clarity. 
The latest data from the Diamond Index via the International Diamond Exchange shows prices have crashed well below pre-Covid levels.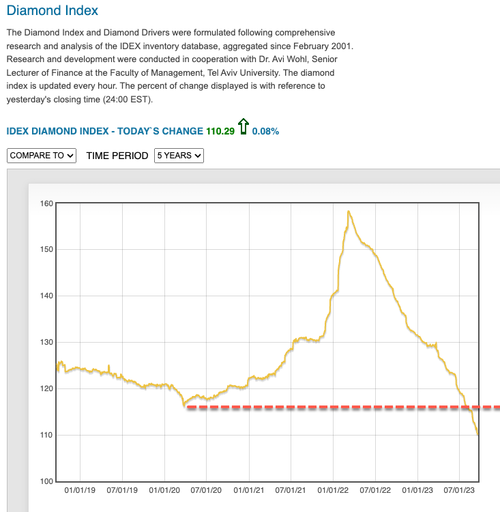 Alrosa competes with De Beers, the biggest producer of diamonds, both of which have been rocked by a rough diamond sales slowdown this year after a massive boom during the pandemic. 
Last week, Reuters reported the Group of Seven (G7) nations might be preparing to reshape the global diamond supply chain by placing restrictions on Alrosa. 
Loading...