---
Russia's Crude Oil Exports Drop Amid Terminal Maintenance
By Charles Kennedy of OilPrice.com
Due to port maintenance works, Russian crude oil exports by sea dipped by around 100,000 barrels per day (bpd) to 3 million bpd last week and by 100,000 bpd to 3.2 million bpd in the four weeks to September 24, tanker-tracking data monitored by Bloomberg showed on Tuesday.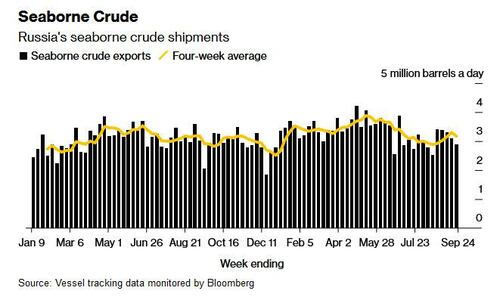 Last week, the oil export terminal at Primorsk on the Baltic Sea stopped shipping cargoes for four days due to maintenance works, and this halt offset recovering export volumes out of the Kozmino port in Russia's Far East. Kozmino crude export flows rebounded last week after maintenance works had reduced shipments in the prior week, according to the data reported by Bloomberg's Julian Lee.
So far this month, Russian crude oil exports by sea have stayed at some 640,000 bpd below the high levels in April and June.
In September, Russia is easing its oil export cut to 300,000 bpd from 500,000 bpd pledged for August. Moscow extended early this month the 300,000-bpd cut until the end of the year, joining fellow OPEC+ producer Saudi Arabia in announcing an extension of the supply cuts.
Russia has said its 300,000 bpd export cut is with the option to review every month and potentially deepen the cuts or increase supply, according to market conditions.
Going forward, Russian crude oil exports could be headed for a rebound after the drop due to port maintenance, as refinery maintenance at home is at its seasonal peak.
The primary oil refining capacity that will be offline in Russia is set to soar by 44% in September compared to August amid seasonal maintenance, according to Reuters estimates based on data from industry sources.
As much as 4.635 million metric tons of Russia's refining capacity is expected to be offline this month, industry sources have told Reuters.
While crude oil shipments could rise in the coming weeks, Russian fuel exports are set to dip, at least temporarily, after Moscow announced a temporary ban on exports of gasoline and diesel to stabilize domestic fuel prices which have been soaring due to higher crude prices and a weak Russian ruble.ty is expected to be offline this month, industry sources have told Reuters.
Loading...