---
Saudi Aramco Reports Blowout Annual Profit On "Strong Crude Oil Prices"
Aramco, the state-owned oil company of Saudi Arabia, disclosed its record-breaking net income of $161.1 billion for 2022 amidst a challenging period for energy markets. The firm also saw a substantial rise in its capital expenditures and payout to shareholders. 
The largest energy company in the world reported a staggering 46.5% surge in its net income, rising from $110 billion in 2021 to an unprecedented $161.1 billion in 2022. Additionally, the company's free cash flow reached a record high, increasing from $107.5 billion in 2021 to $148.5 billion in 2022.
"This is probably the highest net income ever recorded in the corporate world," Aramco CEO Amin Nasser told investors during an earnings call on Sunday. 
"The results were underpinned by stronger crude oil prices, higher volumes sold and improved margins for refined products, while the Company continues to strengthen its oil and gas production capacity, as well as its downstream portfolio, to meet anticipated future demand,' the Saudi Arabian producer wrote in a press release. 
Aramco announced it would raise its fourth-quarter dividend by 4% to $19.5 billion, which will be disbursed this quarter. Additionally, the company will grant bonus shares to qualifying shareholders.
"We're aiming to sustain [the dividend] at this level. 

"We have the financial strength to go through the ups and downs of the cycle," Aramco Chief Financial Officer Ziad Al-Murshed told investors. 
Last year, Chevron Corp. and Shell Pl also reported strong earnings and returned billions of dollars to shareholders. For comparison, Aramco's profits were nearly triple that of ExxonMobil's posted for 2022. 
A significant profit driver was Russia's invasion of Ukraine more than a year ago, leading to triple-digit brent prices between February and August last year. Brent prices have since pulled back and have hovered between the $80-$90 level for months.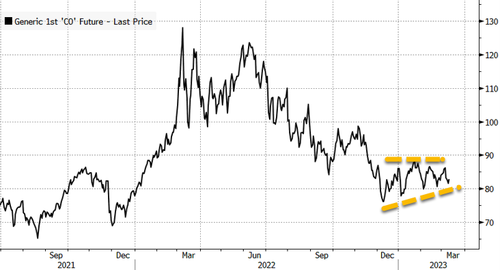 In terms of production, Aramco produced 11.5 million barrels of crude oil and other liquids per day, which accounts for 10% of the global crude supply. Aramco is one of the few corporations investing in facilities to increase their maximum production capacity from 12 million to 13 million barrels per day. Furthermore, the company's total capital expenditure for the year 2022 surged by 18% compared to the previous year.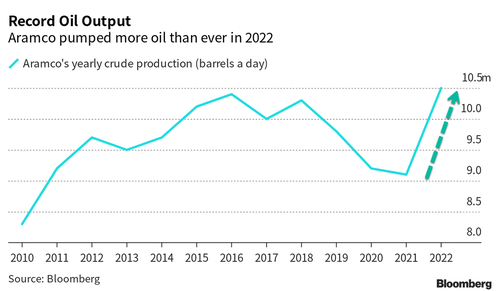 Nasser explained the "risks of under-investment" in the energy complex were real worldwide and another significant driver of higher fuel prices. "To leverage our unique advantages at scale and be part of the global solution, Aramco has embarked on the largest capital spending program in its history," he said. 
"We don't see enough investment getting into the markets right now. 

"We encourage the industry, policymakers, investors… to avail additional investment to really increase the amount in the sector, so that we can meet future demand," Nasser told investors. 
While Aramco continues to expand its production capacity, Russia has decreased its output due to sanctions imposed by Western countries, and the growth of US shale is stagnating. Global crude production has been structurally deficient due to years of insufficient investment, which could drive prices back to the triple-digit range if China's economic reopening accelerates. 
Loading...