---
Saudi Aramco Keeps Dividend Despite Profit In Freefall
The Saudi Arabian Oil Company, otherwise known as "Aramco," announced Sunday that profits plunged 73% in 2Q20, as "global economic disruption and challenges" pressured the energy sector caused by the COVID-19 pandemic. 
The state-controlled oil giant was squeezed by a slump in energy demand and prices as the virus pandemic collapsed world trade. Despite plunging profits and rising debt, the company is expected to pay $75 billion in dividends this year.
Strong headwinds from reduced demand and lower oil prices are reflected in our second quarter results. Yet we delivered solid earnings because of our low production costs, unique scale, agile workforce, and unrivaled financial and operational strength. This helped us deliver on our plan to maintain a second quarter dividend of $18.75 billion to be paid in the third quarter. - Aramco earnings report
Aramco recorded net income in 2Q20 around 24.6 billion SAR ($6.6 billion), down 73% YoY. 
Aramco navigated challenging market conditions to record net income of $6.6 billion for the second quarter and $23.2 billion for the first half of 2020, respectively, compared to $24.7 billion and $46.9 billion in the corresponding periods of 2019. - Aramco earnings report
Aramco Profit Crash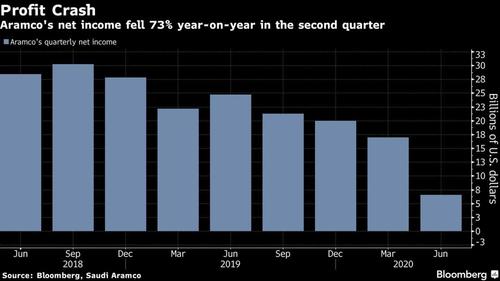 After "substantial reductions in consumer and business activity and significantly reduced demand for crude oil, natural gas and petroleum products" following worldwide lockdowns in the quarter, the company expects a "partial recovery in the energy market:" 
We are seeing a partial recovery in the energy market as countries around the world take steps to ease restrictions and reboot their economies. Meanwhile, we continue to place people's safety first and have adapted to the new normal, implementing wide-ranging precautions to limit the spread of COVID-19 wherever we operate. 

We are determined to emerge from the pandemic stronger and will continue making progress on our long-term strategic journey, through ongoing investments in our business – which has one of the lowest upstream carbon footprints in the world. - Aramco earnings report
CEO Amin Nasser, quoted by Reuters in a press conference, said, "look at China, their gasoline and diesel demand is almost at pre-COVID 19 levels. We are seeing that Asia is picking up and other markets (too)." 
"As countries ease the lockdown, we expect the demand to increase," Nasser added. 
Mazen al-Sudairi, head of research at Al Rajhi Capital, said Aramco is the healthiest oil and gas company among global peers despite "the worst quarter in the modern history of the oil industry." 
Earlier this month, BP halved its dividend while Royal Dutch Shell cut its dividend for the first time since the second world war as the virus-induced global recession crushed quarterly earnings of major oil and gas companies.
Apple Inc. dethroned Aramco last week as the world's most valuable listed company. Shares of Aramco are flat, up 30 bps, to 33.05 SAR on 5.2 million shares traded following the earnings report.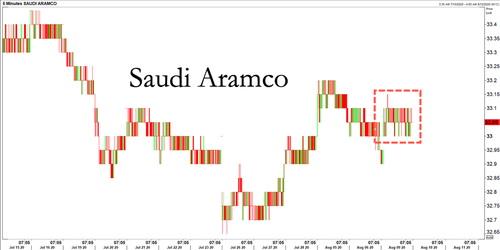 Aramco shares are preforming much better than other major oil and gas companies.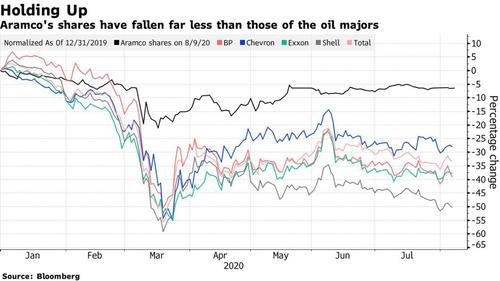 With the worst of the global recession likely behind the energy industry, long term demand for crude should remain well below pre-pandemic peaks as a global recovery could take years.