---
Wheat Prices Jump Higher As Ukraine Threatens Retaliation Against Ships Going To Russian Ports
With as of Monday the Black Sea Initiative grain deal effectively having collapsed, Russia has been warning that ships traveling to Ukraine's Black Sea ports will be seen as potential military targets.  The dire warning came after Ukraine's government said it would persist in its grain and food exports via a temporary shipping route. A Wednesday statement from the Russian defense ministry (MoD) had announced "the flag countries of such ships will be considered parties to the Ukrainian conflict."
Ukraine on Thursday issued its own 'retaliatory' message, warning in turn that ships and food tankers going to Russian ports could come under threat. US intelligence is also now alleging that Russia has begun laying mines once again in order to block Ukrainian ports.
So both countries have now declared the southeastern and northwestern parts of the Black Sea's international waters as 'unsafe' for navigation - but without specifying exact routes or locations which could be subject of intervention.
Kiev meanwhile says it is seeking ways around this, with Romania's help, as Al Jazeera reports:
Ukraine said on Wednesday it was establishing a temporary shipping route via Romania, one of the neighboring Black Sea countries.

"Its goal is to facilitate the unblocking of international shipping in the northwestern part of the Black Sea," Vasyl Shkurakov, Ukraine's acting minister for communities, territories and infrastructure development, said in a letter to the United Nations shipping agency, the International Maritime Organization.
Turkey's TRT outlet has since confirmed that Russian members have left the Joint Coordination Center in Istanbul as a result from Moscow's letting the grain deal termination date expire (Monday).
Wheat prices continue their steady rise since Monday, and spiked Thursday on news of Ukraine's retaliatory warning...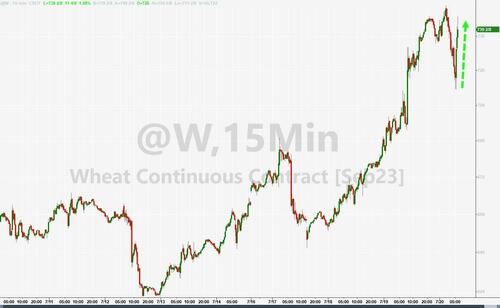 Ankara, however, is still holding out hope that the Black Sea Grain Initiative will be restored after a renegotiation period: 
When asked about the prospects for transporting agricultural exports following the closure of the Black Sea humanitarian corridor, ministry officials stressed that Ankara "sees no alternative to the grain corridor." "As our president said, we support the extension of the initiative, which has been recognized as useful across the world. In this regard, we maintain consultations with all the parties," TRT quoted a Turkish Defense Ministry official as saying.

According to Turkey, over 33 mln metric tons of agricultural goods were exported from Ukrainian ports to 45 countries during the implementation of the grain deal. Export activities involved over 1,000 vessels.
More of Ukraine's response...
Ukrainian seaports are of strategic importance for ensuring global food security in the absence of alternative efficient logistics routes and the politicization of grain transit in Eastern #Europe. Given its importance for the #UN food program, the issue of protecting the Black…

— Михайло Подоляк (@Podolyak_M) July 20, 2023
On Monday, Putin spokesman Dmitry Peskov suggested the UN-backed deal could be reimplemented if Russia's conditions for resumption are met, namely the country's ability to export its own foodstuffs safely, after Moscow has long voiced its objections, which has included blaming the Ukrainians for placing naval mines in the Black Sea corridor. 
"As soon as the Russian part is completed, the Russian side will return to the implementation of this deal immediately," Peskov had said. He further described the agreement as having "been de facto stopped" - again suggesting the possibility of a speedy resumption following negotiations that would address Russia's concerns. 
But this current tit-for-tat threats likely means there won't be a restoration of the deal anytime soon.
Black Sea ports are vital to the Russian economy. Novorossiysk is by far Russia's biggest port, and Taman and Tuapse are also huge. https://t.co/xDsI3JQOZA

— Yaroslav Trofimov (@yarotrof) July 20, 2023
Loading...