---
Short Oil Bets Plunge The Most In 7 Years
On Wednesday, we advised premium subscribers on our private twitter feed that Goldman's FICC desk had just issued its highest conviction trade in a while: buy oil (specifically Long CON3 85-115 Call Spread, Short CON3 70 Put).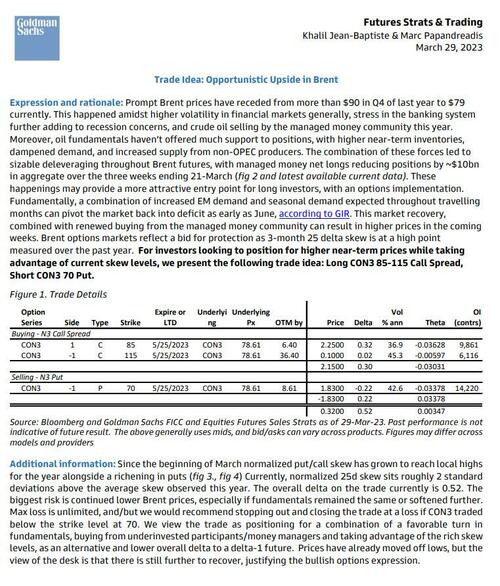 And unlike Goldman's sellside research desk, which has been long oil and commodities for much of the past year for fundamental reasons - which clearly have  been secondary in a time when only technicals, positioning and liquidity matter - Goldman's FICC desk only publishes high conviction notes when there has been a material change in the underlying market dynamic, like now.
Because after tumbling to a 15 month low in mid-March, in a move that was facilitated by a near-record pile up of shorts and the break of key support levels, the worst case scenario now appears priced in.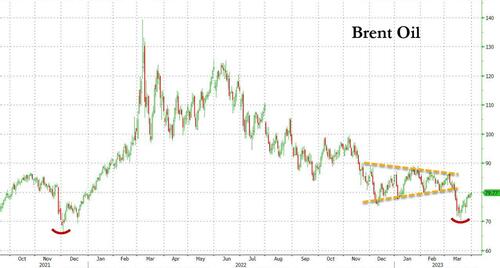 More importantly, as Goldman correctly anticipated, the technical picture has flipped 180 degrees. Perhaps realizing that the bulk of gains on the short side have been made, speculative bears are capitulating and according to the latest weekly CFTC Commitment of Traders report, short money managers unwound bearish bets on US crude by the most since 2016.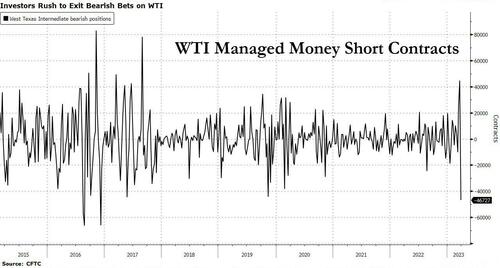 Speculators had piled into short positions as turmoil in the banking industry roiled financial markets but the rapid exit indicates the bearish momentum is now ending. That said, the onus is now on the oil bulls to take control, something they appear unwilling to do just yet, because even as shorts tumbled, bullish bets also slumped to a fresh decade low...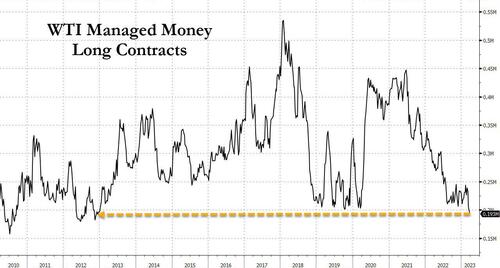 ... however after netting out shorts, the aggregate managed money position rose modestly alongside the sharp rebound in oil in the past week.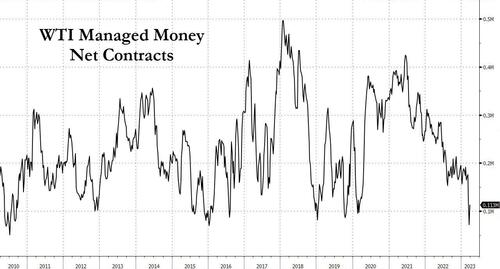 Will oil continue its recent ascent? The answer will depend on whether the short capitulation accelerates and whether bulls finally step in with some conviction.
Loading...