---
Soaring Number Of Americans Want Nuclear Power
Several months after Elon Musk shared his thoughts on X (previously Twitter), advocating for greater use of nuclear power in response to a Times Magazine article featuring J. Robert Oppenheimer's grandson's views on nuclear's role in a net zero-carbon economy, a Pew Research Center survey noted a rise in the number of Americans supporting nuclear power. 
About 57% of Americans (a majority) say they now favor nuclear power generation plants nationwide, up 14 percentage points since 2020, according to Pew. This dramatic rise in just a few short years as demand for electricity with the 'electrify everything' push, including in transportation, soars.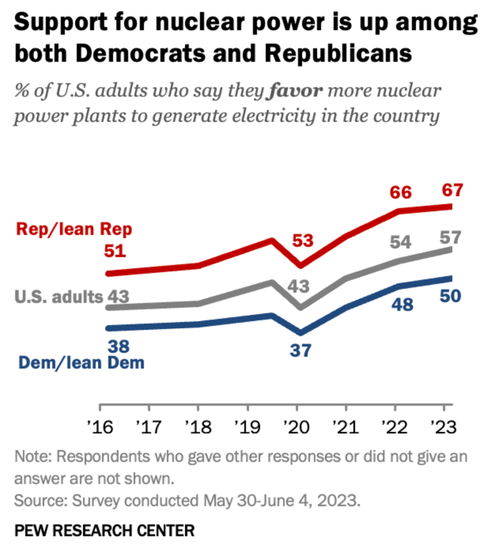 Pew said respondents still favored solar power (82%) and wind power (75%) over nuclear power, though the biggest takeaway is that nuclear power support rises. 
We presented a bull nuclear thesis to readers back in December 2020, recommending uranium on the belief that nuclear power would eventually be incorporated into the ESG (Environmental, Social, and Governance) framework, as highlighted in our article "Is This The Beginning Of The Next ESG Craze," is proving to be accurate.
"It's also important to underscore that nuclear energy became unpopular in part due to its association with nuclear weapons and fears about its safety. But the actual safety record shows it is one of the safest sources of energy, and it is becoming more popular to be an environmentalist and pro-nuclear," Charles Oppenheimer wrote.
Pew noted in the report:
Support for nuclear power has increased among both parties since 2020. Half of Democrats and Democratic-leaning independents now say they favor expanding nuclear power, an increase from 37% in 2020. And two-thirds of Republicans and Republican leaners now favor more nuclear power, up 14 percentage points since 2020, when 53% said they support more nuclear power.

When asked about the federal government's role, 41% of Americans say it should encourage the production of nuclear power. Some 22% think the federal government should discourage the production of nuclear power, and 36% think it should neither encourage nor discourage it. The share of Americans who think the federal government should encourage nuclear power production is up 6 points from last year.

Still, a far larger share of Americans think the federal government should encourage the production of wind and solar power (66%).
"Republicans are more likely than Democrats to favor more nuclear power and to say the federal government should encourage its production," Pew said. 
Perhaps the two political parties have found common ground on at least one topic. 
Currently, the US has 93 nuclear power reactors, many built in the 1970s/80s. The newest is Southern Co.'s Vogtle nuclear power plant project in Georgia, which came online this summer and has unleashed a new nuclear generation of carbon-free electricity in the southern state. 
As we've detailed, "Nuclear Power May Become Crucial In Decarbonization Efforts," which Musk has also echoed. 
Nuclear will play an essential role in the energy transition and decarbonization efforts. Solar and wind are unreliable, and power grids must have mixed power generations to meet increasing power demand in all climate situations. 
Loading...