---
Solar Panel Material Price Plunges Amid Glut
The price of critical material for solar panels plunged this week as supply has caught up with demand, according to BloombergNEF. 
The average cost of the highest grade of polysilicon slid another 20% this week due to oversupplied conditions. This also led to a 1% drop in solar panel prices to the lowest nominal value since May 2021. 
According to the China Silicon Industry Association, polysilicon produced in China increased to 96,700 metric tons in December 2022, 7.5% more than in the previous month. New polysilicon manufacturing capacity in China boosted domestic production in 2022 by 66%. 
BNEF analysis shows polysilicon prices are in freefall. Now at $24 per kilogram.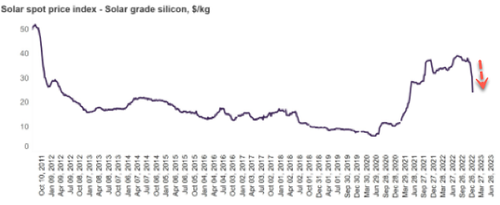 The good news is that polysilicon is at the heart of manufacturing solar panels. This could mean panel prices are set to decline further. 
Loading...