---
Soybean Futures Hit 27-Month High On Increased Chinese Demand 
CBoT soybean futures entered a new bull market in September, soaring 21% in the last five months, with most of the gains (+18%) over the previous 23 sessions as strong demand from China comes online.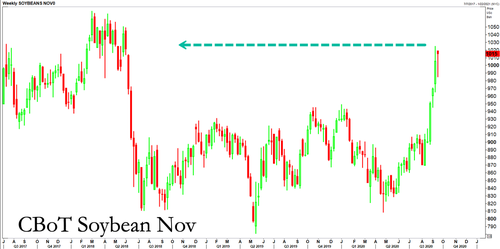 According to Reuters, there's a lot to be excited about in soybean fundamentals as the demand outlook story brightens with China increasing soybean purchases: 
The U.S. Department of Agriculture confirmed private sales of 327,000 tonnes of U.S. soybeans to China. The USDA has announced U.S. soy sales to China in each of the last nine business days.

A Farm Futures producers' survey conducted in late July and released on Wednesday projected a 4.9% rise in U.S. 2021 soybean seedings and a 0.3% drop in corn acres.
Agriculture leaders, including Jim Sutter, CEO of the U.S. Soybean Export Council, told CNBC's "Street Signs Asia" on Sept. 10 that "outlook demand for the next six months or so is pretty good." 
Sutter said, "U.S. farmers are feeling much more optimistic than they said, a year or even six months ago," adding that China has been buying U.S. soybeans as part of the phase one trade deal signed between both countries in January. 
"Now, as we get into the time of the year, when China is more typically purchasing soybeans from the northern hemisphere — the United States in particular — we are seeing them make significant purchases ... we have a record amount of new crop sales open to China at this time, so we are thinking that it is a successful trade deal," Sutter said.
China is committed to buying $12.5 billion of U.S. farm products under phase one agreement, with another $19.5 billion in 2021. 
"I continue to believe that the phase one agreement is very important and is being executed well," said Sutter.
We noted, in late August, the "prospects of strong Chinese demand pushed Chicago soybean futures prices to a seven-month high this week." 
"China has been stepping up purchases of American agricultural goods since the end of April, with soybean sales for delivery next season currently running at their highest level for this time of year since 2013."
And of particular note is the fact that this surge in prices - on apparent demand - is against the typical seasonal pattern in soybean price action...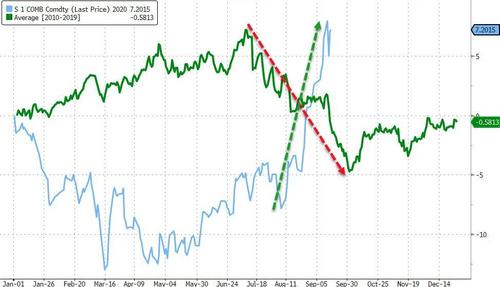 While China's demand for U.S. soybeans appears to be increasing, partly because the country's hog herd numbers are recovering from the African swine fever outbreak, overall trade deal commitments under the phase one deal will likely not be met this year.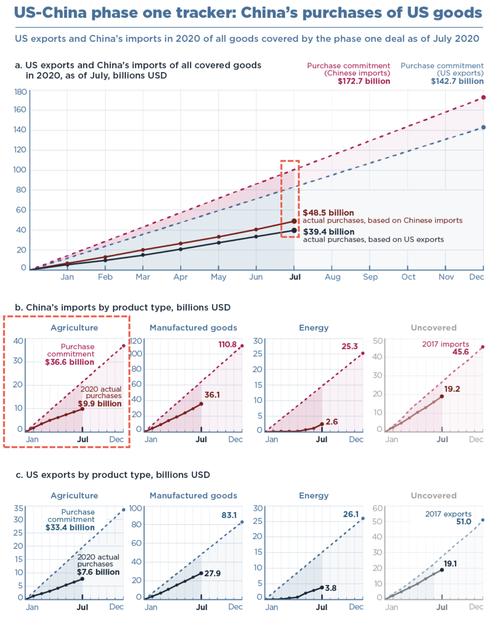 China's increased soybean purchases is good news for President Trump ahead of the presidential elections on Nov. 03.